Parents are being urged to ditch the car for the school run when classes resume on August 11.
Scotland's active health commissioner Lee Craigie has teamed up with other organisations to promote healthy travel to school as pupils return to classrooms after being away for five months.
Sustrans, Cycling Scotland, Living Streets, Paths for All and Forth Environment Link are calling on children to walk, cycle or scooter to school instead.
Mr Craigie said driving children to school is one of the biggest false economies.
"By removing the simple daily pleasure of walking, cycling or wheeling to school, we miss the opportunity to instil in our kids patterns of everyday active behaviour that will improve and prolong their lives," he said.
"Who doesn't want that for the people they love?"
Lynn Stocks, Sustrans Scotland head of behaviour change, said: "After months of break from routine, the journey to school is a chance to get a bit of regular daily exercise for both children and their guardians.
"And for parents who may still be working from home, the walk or cycle to school and back offers a chance to start the working day with some exercise."
She added: "Our streets cannot afford more congestion and air pollution, and our children cannot afford more inactivity after months of home schooling.
"This is a chance to make a positive change to the way our children travel to school, to make it safer and healthier for everyone.
"We're urging families to leave the car and make the school run fun with walking, cycling and scootering"
A survey from Hands Up Scotland in June found the number of pupils being driven to school was at a record high in 2019.
Air pollution near schools is a particular cause of concern, especially for respiratory health.
Professor Steve Turner, the Royal College of Paediatrics and Child Health's officer for Scotland, said: "In preparing our State of Child Health 2020 report we asked children and young people in Scotland what keeps them 'healthy, happy and well', and at the top of the list was exercise.
"In Scotland, more than 22% of our four and five-year-olds are overweight or obese, we know that obese children are more likely to become obese adults with increased risk of developing a range of other health conditions.
"We also know that asthma is one of the leading cause of hospital admissions for our children and young people.
"Encouraging families to walk, cycle or scoot to school will not only reduced air pollution it will embed healthy behaviours in our children and young people which in turn will help to prevent ill health."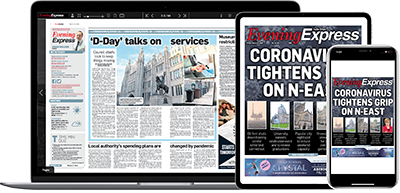 Help support quality local journalism … become a digital subscriber to the Evening Express
For as little as £5.99 a month you can access all of our content, including Premium articles.
Subscribe