The leadership of mental health support across NHS Tayside has been described as being of "significant concern" in a new report.
Healthcare Improvement Scotland (HIS) published a review on Thursday of the adult community services across the health board and its three partnership areas of Perth and Kinross, Dundee and Angus.
It highlighted a number of areas of concerns but pointed to resolving management issues as a priority.
Ann Gow, HIS deputy chief executive and director of nursing, said: "The main focus of this review was to find out if people referred to community mental health services in Tayside have access to care where and when they need it, and if they are able to move through the system easily to receive appropriate care in the right place at the right time.
"We found that this is not always the case for everyone.
"Our report therefore makes a number of recommendations.
"We observed a very committed workforce from all specialties across the service and identified areas of good practice which had a positive impact on patient care and services.
"We recognise there is a national shortage of consultant psychiatrists and difficulty in recruiting permanently to these posts.
"However, the leadership and management to address this issue is an area of significant concern which needs to be addressed as a priority."
The report sought to examine whether people had appropriate access to mental health care and whether they could move through the system easily.
It identified areas of "significant concern" but also examples of good practice and "encouraging initiatives" throughout the area.
But an over-dependence on ever-changing locum consultants alongside a large number of vacancies was said to have edged care provision into a significant risk for the service.
Staff told report authors they spend considerable time supporting new locum psychiatrists.
The report said NHS Tayside leadership's lack of ability to handle these issues was a matter of "significant concern" which needed to be addressed as a priority.
It set out a number of recommendations including the introduction of formal senior mentoring and supervision to ensure locum psychiatrists are monitored.
The review was carried out over three separate week periods between January and March.
A previous inquiry, led by former prison inspector David Strang, highlighted a "breakdown of trust in many aspects of the provision of mental health services in Tayside".
It heard from more than 1,500 patients, their relatives, staff and other organisations.
A statement from NHS Tayside and Angus, Dundee and Perth and Kinross Health and social care partnerships said: "We will now ensure that the actions and recommendations set out in the report are progressed through the improvement work already under way across mental health services Tayside.
"Today's report also highlights a number of examples of good practice with the HIS review team observing a very committed workforce from all specialties across mental health services.
"We made a promise to the people of Tayside that we will listen, learn and change in response to the independent inquiry and the further actions which we will take from today's report reinforce that pledge."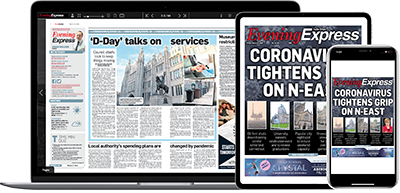 Help support quality local journalism … become a digital subscriber to the Evening Express
For as little as £5.99 a month you can access all of our content, including Premium articles.
Subscribe