A Holyrood committee has moved to limit ministers' early access to economic statistics by publishing a Bill which would change the rules.
The Economy, Energy and Fair Work Committee is seeking to limit the pre-release access (PRA) of official statistics by ministers and their top officials.
A committee Bill has now been published, following a majority decision by the MSPs earlier in the year.
SNP members of the committee have dissented from the proposal and previously indicated they did not want to proceed with the legislation.
The committee Bill would limit the early access to GDP and Retail Sales Index data, while the PRA period for other statistics would be reduced from five working days to one.
Committee convener Gordon Lindhurst said this would bring Scotland in line with other parts of the UK which had decided to roll back PRA.
He said: "Statistics are a public asset and the remit of our original inquiry was to examine the accuracy, utility and understanding of economic data. In concluding our inquiry, a majority of MSPs agreed that legislation was needed.
"The great majority of statistics experts who gave evidence to the committee were agreed that the practice of pre-release access for government ministers, now ended elsewhere in the UK by the ONS and Bank of England, should not continue in Scotland.
"The committee decided to take action after the Scottish Government chose not to change its view on the matter.
"Equal access and earliest release are the principles at the heart of this committee Bill.
"The collection of data, on the face of it, can be viewed as a niche issue however it is a fundamental cog in the decision making in government, in business, in social policy, in the press, and in the public mind, and that is why the committee has drafted this Bill with its aims and objectives."
A Scottish Government spokeswoman said: "UK Government departments provide pre-release access to their statistics in a similar way to the Scottish Government.
"Pre-release access to Scottish economic statistics is also provided to UK officials and ministers within the office of the Secretary of State for Scotland.
"Pre-release access is a matter for the chief statistician and the independence of his role is crucial.
"The Scottish Government follows the code of practice for statistics."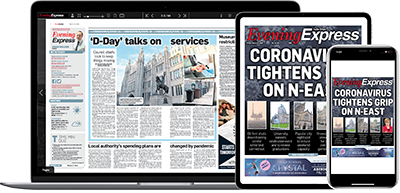 Help support quality local journalism … become a digital subscriber to the Evening Express
For as little as £5.99 a month you can access all of our content, including Premium articles.
Subscribe