The number of cancer diagnoses has reached its highest level in Scotland, latest figures reveal.
Some 33,958 cancers – excluding skin melanomas – were diagnosed in Scotland during 2018, an increase of 4,146 (13.9%) since 2008.
The NHS Scotland figures show a sharp jump in cancers diagnosed between 2017 and 2018, with 1,168 more cases.
This compares to an average increase of 331 between the previous nine years.
With an increasing population and life expectancy, the risk of developing cancer has fallen by 3.5% in the last decade.
Men are more likely to develop cancer than women, although the 2018 figures show approximately 500 more females were diagnosed, in part due to their longer life expectancy and the cancers they are susceptible to.
Overall, lung cancer remains the most common, with 5,356 cases.
Breast cancer is the most common among women only, while this is prostate cancer for men.
Lung cancer is three times more likely in the most deprived areas of Scotland compared to the least deprived parts, the figures show, while breast and prostate cancer are more common in less deprived areas.
In females in the decade to 2018, there were significant increases in rates of thyroid cancer (up 60%), liver (up 54%) and uterus (up 19%), while there were significant falls in the rates of cancers of the stomach (down 29%), and the ovary (down 15%).
For males, there were significant increases in rates of thyroid cancer (up 56%), liver (up 37%), kidney (up 26%) over the period, in contrast to falling rates of stomach cancer (39%) and leukaemia (26%).
Lung cancer rates fell by 10% in the decade to 2018 due to a fall of 19% in men but almost no change in women, attributed to differing smoking patterns in previous decades.
Prostate cancer increased by 7% while there was little change in breast cancer in women.
Colorectal cancer rates fell 18% over the same period.
Approximately 40% of cancers are potentially preventable through behavioural and lifestyle changes, with smoking, obesity, alcohol and diet among the largest modifiable risk factors for cancer in Scotland.
Marion O'Neill, Cancer Research UK's head of external affairs in Scotland, said: "These statistics, which show that growing numbers of people are experiencing cancer, clearly illustrate that research into better and kinder treatments, as well as effective patient services, are needed more than ever.
"It remains vital that cancer is diagnosed as early as possible when treatment is more likely to be successful.
"This is why patients who are worried about symptoms should get in touch with their GP."
She added: "It's also important that when urgent referrals are made, patients feel confident that they are accessing further investigations and treatment in an environment that's Covid-free.
"A widespread Covid-19 testing programme for patients and healthcare staff should be at the heart of this."
Scottish Liberal Democrat health spokesman Alex Cole-Hamilton said: "Coronavirus has undoubtedly thrown barriers in the way of people seeking and accessing cancer treatment but we know unbearably long waits for treatment and understaffed services have been a staple feature of cancer care in Scotland for years now.
"These statistics must remind us just how important it is that patients get swift and reliable cancer treatment.
"In the midst of all this, the Government must keep a close eye on staff shortages and under-resourcing in this critical area of care."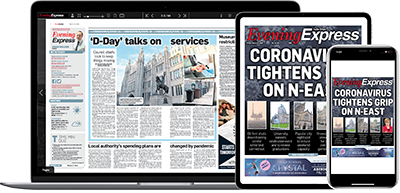 Help support quality local journalism … become a digital subscriber to the Evening Express
For as little as £5.99 a month you can access all of our content, including Premium articles.
Subscribe