Business leaders have welcomed Nicola Sturgeon's four-point plan for easing the Covid-19 lockdown.
But the First Minister has been urged to publish guidance setting out what steps will need to be taken before companies can open up again.
The Federation of Small Businesses (FSB) said there is "no time to lose" in setting out such measures.
FSB Scotland policy chairman Andrew McRae described the new route map as the "first step required to getting our economy moving and ensuring as many Scottish businesses as possible make it through this crisis".
Stressing "many businesses will be required to make adjustments to their workplaces before the shutters can come up", he said there is "little guidance for firms in Scotland regarding what those alterations might be".
Mr McRae said of the Covid-19 pandemic: "It is a public health crisis, it is also an economic crisis.
"With a third of closed Scottish businesses unsure if they'll reopen, local firms need to know that Scottish policymakers want them to succeed."
CBI Scotland director Tracy Black said the four-phase plan provides a "helpful starting point for firms preparing for the restart".
"For the Scottish construction industry, which has been hit so hard by the crisis, the resumption of activity in phase one will come as a significant relief," she said.
Ms Black said while reopening timings "may vary based on scientific evidence", she stressed the return to work should be "as consistent as possible across the UK".
She added: "With the UK Government having already provided a helpful template looking at workplace settings, firms will be keen to see an acceleration of specific workplace guidance for Scotland that follows the same approach."
The first phase includes plans for outdoor workplaces to resume with physical distancing measures in place and for the construction sector to implement the first two sections of its restart plan.
Vaughan Hart, managing director of the Scottish Building Federation, said many construction sites will be ready to "to begin building works through a 'soft start' either immediately or by the end of May".
He added: "It is critical the Scottish Government gives the go-ahead for that as soon as reasonably possible and then for the further stages of the plan so that construction can begin to gradually increase activity whilst keeping site safety as the top priority."
Garden centre bosses also welcomed guidance that they can reopen their doors from as early as next Thursday.
Drew Gallacher, the manger director of the Cardwell Garden Centre near Gourock, said: "It's the correct decision to allow garden centres to reopen and we'll be doing so as soon as we're allowed to."
He added: "We'll obviously be introducing measures to ensure the comfort and safety of both our customers and staff."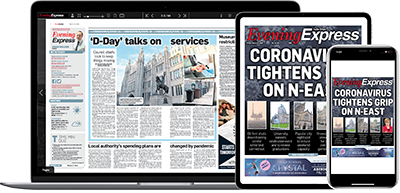 Help support quality local journalism … become a digital subscriber to the Evening Express
For as little as £5.99 a month you can access all of our content, including Premium articles.
Subscribe