The planned reduction of social distancing rules in some circumstances has been welcomed by business representatives but the STUC has warned the move must not allow workers' health to be put at risk.
First Minister Nicola Sturgeon announced the government would consider reducing the two-metre distancing rule in some situations, naming the retail, hospitality and public transport sectors as possible examples, if other mitigation is possible.
Following the announcement, general secretary of the Scottish Trades Union Congress (STUC) Roz Foyer argued that any relaxation of the rules must not be used by "unscrupulous" employers in a way that could increase the chance of infection for staff.
Describing the decision as "disappointing" and calling for all employers who reduce the two-metre guidance to carry out risk assessments, Ms Foyer said: "Workers in retail and hospitality are some of our most undervalued workers. They are also more likely to be low-paid and less likely to be in a union.
"They have borne the brunt of redundancies and now it seems they will run a greater risk of catching coronavirus at their work.
"We are gravely concerned that these low-paid workers will bear the risk of having to enforce new rules and take safety decisions."
However, organisations representing Scottish businesses reacted positively to the announcement, with Scottish Chambers of Commerce chief executive Dr Liz Cameron welcoming the "flexibility" of the policy.
Dr Cameron said: "While this is a step in the right direction, we will need clarity and detail on the mitigations that businesses will be asked to implement.
"Ultimately, preventing the spread of the virus is everyone's responsibility and we must work together to ensure the mitigations are practical and affordable for businesses.
"Anything short of that will result in further job losses."
The chairman of the Federation of Small Businesses Scotland, Andrew McRae, said: "This is another welcome step along the road to freeing us from lockdown and getting the country back to business.
"There's a real need, if we're to stem the tide of rising job losses and avoid long-term damage, to get as much of the economy up and running as quickly and safely as possible.
"There is a lot in this announcement and it is complicated – particularly around the two-metre rule.
"So it will be crucial that the businesses who will be in charge of implementing the new rules are given clear guidance on the rules and their practical application."
David Lonsdale, Scottish Retail Consortium director, said: "Scottish ministers have clearly listened to a number of the representations that the retail industry has made in determining further relaxations of lockdown.
"Lifting the five-mile limit, not asking shop workers to enforce the wearing of face coverings, and accepting our argument that physical distancing could be reduced when appropriate mitigations are in place will help retailers' operations without impinging on public health.
"More steps will be needed, but there is much retailers can support in the First Minister's announcement."
He added: "We recognise the delicate balancing act between public health and economic recovery, and we believe the decision to allow retail businesses from July 10 to operate with reduced physical distancing where they can demonstrate it is safe is a sensible and welcome compromise.
"The reduction will support shops, which have faced limits and caps on footfall into store – and therefore spending – as a result of the physical distancing measures.
"Retailers have worked hard and have already taken numerous steps to keep customers and colleagues safe, and we will aim to work closely with the government to ensure there is clear and proportionate guidance in this area."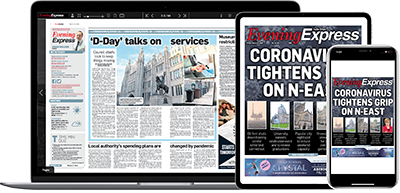 Help support quality local journalism … become a digital subscriber to the Evening Express
For as little as £5.99 a month you can access all of our content, including Premium articles.
Subscribe