Proposals to limit rent increases for private-sector tenants have been dropped due to a lack of time for a Holyrood Committee to consider the plans.
A Member's Bill from Scottish Labour MSP Pauline McNeill would have introduced measures to limit rent increases and to increase the availability of information about rent levels.
Ms McNeil said she was "extremely disappointed" the Local Government and Communities Committee has dropped consideration of her Bill, blaming a heavy workload due to coronavirus.
The decision means her Fair Rents (Scotland) Bill is now unlikely to be debated before next year's Scottish Parliament election unless the parliamentary bureau agrees that another committee is able to look at the measures.
Ms McNeill, who is her party's housing spokeswoman, said: "I appreciate that time is tight between now and the end of this parliamentary session, but the Bill proposed important measures to protect renters and improve housing affordability.
"The need for these measures was great before the Covid-19 crisis but lockdown has intensified the need for change in this sector.
"There has never been more people renting in the private rented sector, many of whom will be in a crisis of high rents but do not have the option of public housing or the deposit to buy their own home.
"I believe so strongly in the need for this legislation I will be seeking to have the Bill scrutinised by one of the other parliamentary committees."
Convener of the Local Government and Communities Committee James Dornan said: "We recognise the effort of the member in bringing forward this Bill.
"However, the committee has finite time available for scrutiny, particularly given our pressing need to investigate the devastating impact of Covid-19 on local government and our wider communities.
"Given the limited time at our disposal, we felt we could not give this Bill the detailed scrutiny it deserved and so as a committee we decided not to proceed on this occasion."
Mike Dailly, solicitor advocate at Govan Law Centre said the private rental sector has trebled in size in the last 20 years, with central belt rents increasing at double the rate of inflation over that time.
He said: "We are astonished that the Scottish Parliament's Local Government Committee has refused to consider the Fair Rents (Scotland) Bill.
"They have binned the Bill without any discussion. A year of hard work ignored.
"Lockdown has meant a massive increase in rent arrears, what could be more important than discussing fair rents in Scotland?"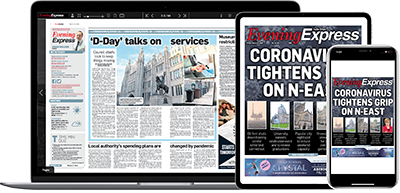 Help support quality local journalism … become a digital subscriber to the Evening Express
For as little as £5.99 a month you can access all of our content, including Premium articles.
Subscribe