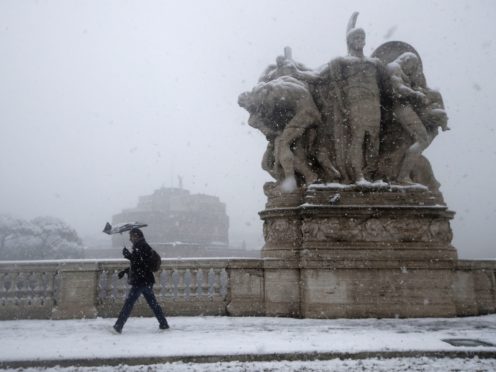 The Arctic storm dubbed the "Beast from the East" has seen temperatures across much of Europe fall to their lowest level this winter and even brought a rare snowstorm to Rome.
The weather front paralysed the Italian capital and gave its residents the chance to ski, sledge and build snowmen in its famous parks and piazzas.
The city's schools were ordered closed, while train, plane and bus services were crippled.
Italy's civil protection agency even mobilised the army to help clear slush-covered streets as a city used to mild winters was covered by a thick blanket of snow.
By noon the snow had all but melted, but freezing temperatures expected overnight prompted officials to close the city's schools on Tuesday for a second day and warn of continuing traffic and train chaos due to the ice already forming on slick cobbled pavements and streets.
Rome's Mediterranean climate and proximity to the sea usually result in mild winters, and restaurants often keep outdoor seating open, albeit with space heaters, even through the coldest months of the year.
Elsewhere in Europe, the storm set dangerously low temperatures.
Lithuanian officials said temperatures as low as minus 24C in places were to blame for the deaths of at least three people over the weekend.
Hospitals in Lithuania and Latvia reported a rise in people being treated for hypothermia and frostbite.
Swedish prime minister Stefan Lofven's car skidded off the road in a snowstorm north of Stockholm and smashed into a railing, one of several snow-related traffic accidents in Sweden. He was uninjured.
Meteorologists in Germany reported a record low for this winter of minus 27C on the Zugspitze mountain in the Alps.
Moscow recorded its coldest night this winter, with the mercury dipping to nearly minus 20C on Sunday night.
In Croatia, about 1,000 soldiers joined in the clearing operations in the worst-affected areas, where over 5ft of snow was reported.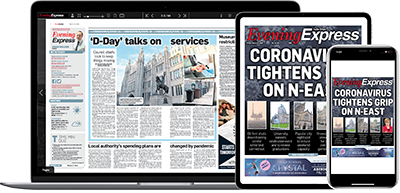 Help support quality local journalism … become a digital subscriber to the Evening Express
For as little as £5.99 a month you can access all of our content, including Premium articles.
Subscribe