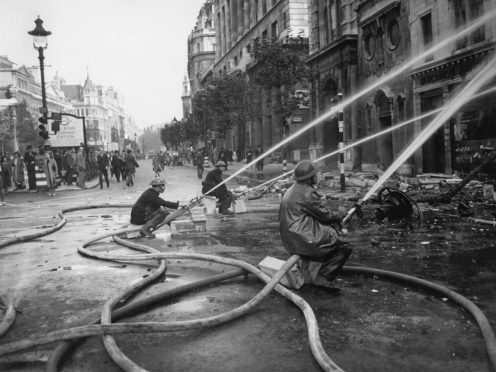 A top secret "dodgy dossier" from World War II based on a psychological study of adults and children in Hull may have played a role in Sir Winston Churchill's ruthless strategy of carpet bombing German cities, an expert says.
The super-sensitive report has been locked away since 1941 under an embargo that will not be lifted until 2020.
In it, psychologists detail the findings of a study that involved 40 experts interviewing 700 adults and asking every school child between the ages of 10 and 14 to write an essay about their experience of the Blitz.
The aim was to assess the breaking point of a civilian population subjected to large scale "area bombing".
But according to historian Professor David Atkinson, evidence suggests the results were deliberately distorted to persuade Churchill to support area bombing.
Instead of hearing of the heroic resilience and courage of the people of Hull, Churchill was led to believe that massive bombing raids really could break a population.
Professor Atkinson, from the University of Hull – who has written a book about the city's terrible experience during the Blitz, said: "The official report is still embargoed until 2020 so we don't know what it says, but one of the people who designed it, Solly Zuckermann, in his autobiography in 1976, snuck out a note about his findings and he said, actually what's happening in Hull, the people are resilient, collectively the city and its infrastructure is resilient; there's been no significant sign of the city about to break."
Speaking at the British Science Festival at the University of Hull, Professor Atkinson told how every child in the city was recruited for the study.
He said: "Every single child in Hull between the age of 10 and 14 was tasked with writing an essay on the title of what I did in the air raids.
"So these kids wrote all these essays which were taken off to be coded and analysed for words like terror, fear, shaking, screaming, whatever, to try to work out at what point would the kids be about to crack."
The report was taken to Churchill by his German-born chief scientific adviser, Frederick Lindemann.
Precisely what occurred then may never be known. But Professor Atkinson suggests that Lindemann, without lying directly, was highly selective about what his master was told.
Most important was evidence of de-housing by the bombs, since this was supposed to be seriously damaging to civilian morale.
Prof Atkinson said: "It may have been that Lindemann had the report in front of him, and he said to Churchill, here are the key points, and he picked out the ones that said, well, look, one ton of bombs kills four people and it de-houses another 140, and the de-housing is the thing that really severely affects morale within the city.
"So the notion is that de-housing the German population would severely damage German morale and therefore crack their resistance."