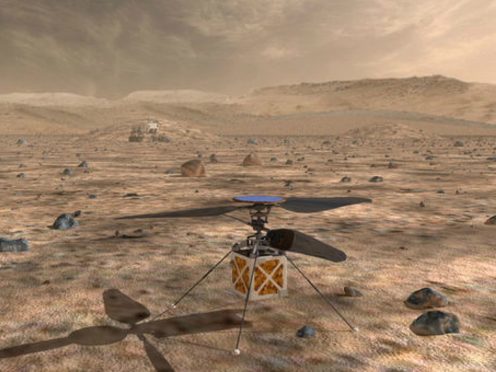 Nasa is planning to send a small autonomous helicopter to Mars on the next rover mission to the red planet.
The US space agency revealed the aircraft will be carried aboard the Mars 2020 rover as a technology demonstration to test its ability to serve as a scout and to reach locations not accessible by ground.
The copter, being developed at Nasa's Jet Propulsion Laboratory in southern California, weighs less than 4lb and is equipped with two counter-rotating blades that will spin at almost 3,000rpm – a necessity in the thin Martian atmosphere.
Solar cells will charge its lithium-ion batteries and the copter features a heating mechanism to keep it warm through the cold Martian nights.
Thomas Zurbuchen, associate administrator for Nasa's Science Mission Directorate, said: "We already have great views of Mars from the surface as well as from orbit.
"With the added dimension of a bird's-eye view from a 'marscopter', we can only imagine what future missions will achieve."
The highest any helicopter has flown from Earth is 40,000ft, but the Mars Helicopter will be flying at the Earth equivalent of 100,000ft.
Mimi Aung, project manager of Mars Helicopter at JPL, said: "To make it fly at that low atmospheric density, we had to scrutinise everything, make it as light as possible while being as strong and as powerful as it can possibly be."
The vehicle is expected to do five autonomous flights over a 30-day period.
Mr Zurbuchen added: "The ability to see clearly what lies beyond the next hill is crucial for future explorers."
The Mars 2020 rover will launch on top of an Atlas V rocket in July 2020 and is expected to land on Mars in February 2021.