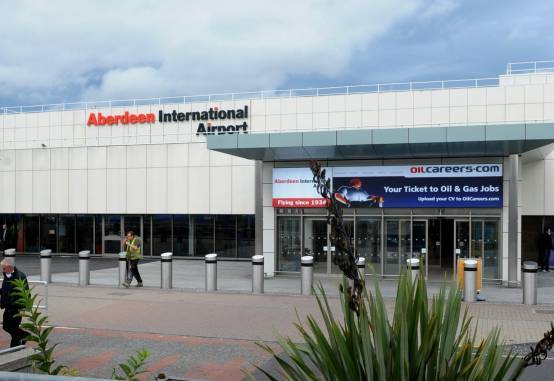 MOTORISTS are to be charged 1 to drop people off at Aberdeen International Airport, it was announced today.
A number of changes are being made to parking at the Dyce airport, as part of a full review of all facilities on offer.From the start of 2015, a charged forecourt area will be implemented, in an attempt to tackle local congestion and safety concerns.The forecourt, which is currently marked as drop-off only, is to be managed by an ANPR (number plate recognition) system and exit barriers to control how long customers spend on the forecourt.There will be a 1 charge for those staying up to 10 minutes.Drivers wishing to use parking facilities for more than 10 minutes are advised to use the Short Stay car park.Short stay parking tariffs will be changed to reflect this new product.As part of this review, a free option is being made available within the Long Stay car park with a free rapid shuttle service taking customer directly to the main terminal entrance.Airport bosses believe will result in a service improvement for blue-badge holders. A free 30 minute period is being offered for those with a valid badge to use the clearly marked blue badge spaces within the Short Stay car park, the closest spaces to the terminal.Carol Benzie, airport managing director, said: "We have seen the current forecourt reaching its capacity in recent months and have long had serious concerns about the safety of our customers and staff."An increase in traffic using the airport has resulted in some examples of dangerous behaviour among drivers and the new system will allow us to better manage that behaviour."Whilst a majority of people do use the airport roads responsibly, we have to play our part in improving the whole environment for everyone, and we were keen to introduce this measure before someone got hurt.
"Last week we announced that work is officially underway on the terminal transformation project, which will see construction work taking place around the terminal for a number of years. We needed to find a solution to help keep customers safe amidst some major pieces of work."
Airport commercial director, David O'Neill, has been leading the car park review. He said: "We have done extensive planning and preparation for this change and we feel it best meets the needs of our operation. We are not the first airport to introduce such a measure and in all other locations this system has proved successful in traffic and safety management.
"Meanwhile 10% of any income from the new process will be put directly back into CSR projects for the benefit of the wider community."
"I am particularly pleased to see a step-change in the service on offer to blue badge holders and I am confident that they will find the free period in the short stay car park much more suitable to their needs."The changes, including the free drop off, amended short-stay parking rates, the charged forecourt and the blue badge improvements, will come into effect from January 7, 2015.Aberdeen airport hits back after social media fury at new 1 charges