A JOBSEEKER stunned passers-by in Aberdeen city centre by holding a placard which said "FREE SEX".
Martin Bergchauzen was spotted standing on Union Street and Union Terrace with the sign yesterday.The 26-year-old, who lives in Torry, was looking for a potential employer.The sign read: "FREE SEX. No, I'm kidding. Looking for a JOB. I'll take any JOB. Talk to me or call me."Passers-by stopped for photos and to chat to him.Martin told the Evening Express: "I'm not offering free sex it is just a joke."I wanted to say 'free sex' because it is a word everyone looks at."Your eye is immediately drawn to that word and it worked because people stopped to look at the sign and take pictures."It was a marketing tool."Everyone found it funny, they were very friendly and said they would share their pictures on Facebook to help me get a job."The people have been so nice and were wishing me good luck."
Martin arrived in Aberdeen from Warsaw last month to find work.And he believes he has the skills for a number of roles.He said: "I have worked in a warehouse in Poland and I can use a forklift."I can also do any labour work, because I am very strong."I have worked in a shop too so there are a number of jobs I feel I could do because of my experiences."I was fed up with living in Poland, as I wasn't getting much money for doing a lot of very hard work."Pictures of Martin were being posted all over social media yesterday and today.And he said he hoped his one-man campaign, plus the generosity of the North-east, can help him land a job.He said: "It has got a lot of attention, so I hope I can find a job."I don't care what I do I will do any job."Can you help Martin find a job? Call him on 07448572420.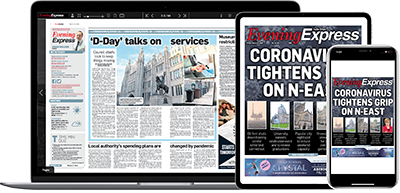 Help support quality local journalism … become a digital subscriber to the Evening Express
For as little as £5.99 a month you can access all of our content, including Premium articles.
Subscribe