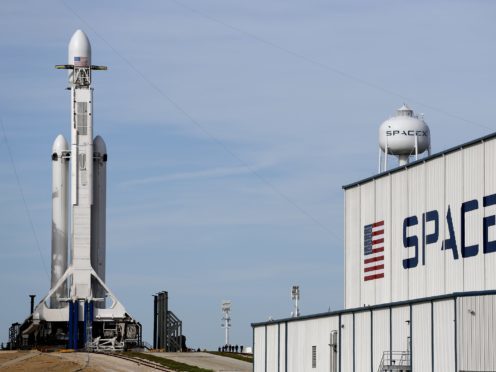 The world's most powerful rocket is set to make its first test flight on Tuesday.
Designed to have twice the lifting capacity of any other vehicle, the Falcon Heavy will blast off from Nasa's Kennedy Space Centre in Florida, carrying a red sports convertible with a dummy at the wheel.
The SpaceX megarocket will play David Bowie's Space Oddity on loop as it takes off from Cape Canaveral at 1.30pm ET (6.30pm GMT) before hurling its payload into an elliptical orbit around the Sun.
Here's everything you need to know.
What is Falcon Heavy?
The Heavy is a reusable heavy-lift launch vehicle being designed and manufactured by Elon Musk's company SpaceX.
It has a maximum payload of 141,000lb (64,800kg), which, according to the spacecraft maker, is "a mass greater than a 737 jetliner loaded with passengers, crew, luggage and fuel".
The Heavy was designed from the outset to carry humans into space with aim of enabling crewed missions to the moon or Mars, although SpaceX may have changed its mind about carrying people.
Speaking at a news conference, Musk said they may prefer using an even bigger rocket that is currently under development called BFR – short for Big F****** Rocket – with the Heavy being reserved for moving equipment only.
At lift-off, the Heavy will be the world's most powerful rocket currently in operation, although it will not surpass Nasa's Saturn V rocket that was used for moon missions.
Why is it carrying a car?
In what appears to be an attempt at cross-marketing, the Heavy will carry a red Tesla Roadster – a convertible from Musk's electric car-maker Tesla.
The payload is one of the company's original Roadsters and had to be signed off by the Federal Aviation Administration in the US.
Inside the car will be a mannequin (dubbed "the Starman" by Musk) wearing a SpaceX spacesuit strapped in the driver's seat.
No car has ever rocketed into space before – except for Nasa's lunar buggies from the moon missions which are still parked there.
Three cameras mounted on the Roadster should, according to Musk, provide "some epic views if they work and everything goes well".
How powerful is the rocket?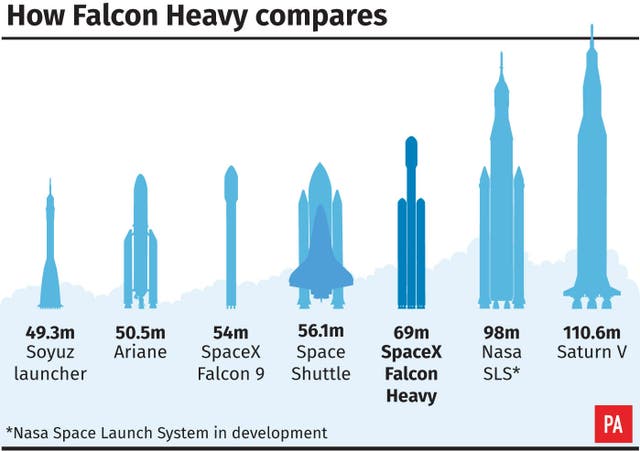 The Heavy has three boosters in the first-stage part of the rocket, strapped together with 27 engines in all.
Packing five million pounds of thrust at lift-off, it has more punch than any other rocket currently operating in the world but less than Nasa's old space shuttles and Saturn V moon rocket.
Stretching 40ft (12m) at its base and standing 230ft (70m) tall, the Heavy contains three engine cores.
It is also fairly cheap, with each flight of the rocket starting at just $90 million (£64 million).
The next most powerful rocket is the Delta IV Heavy, which, according to its manufacturer, the United Launch Alliance, runs about $350 million (£251 million) per launch.
What will happen to the Heavy after lift-off?
Getting the car into space is nothing if not a complicated process.
The Heavy will launch with all three cores together, but the two outer cores will break away during the ascent.
The cores will attempt to land back on Earth once they detach and head back to Cape Canaveral.
The centre core will also return to Earth, heading towards the Atlantic and landing on one of SpaceX's drone ships.
If it works, all three cores could potentially be reused to fly future missions.
What will happen to the payload?
The payload will follow a long, oval orbit around the Sun which will take the car as far out as Mars.
On Monday, Musk said the Roadster could come fairly close to Mars and that there's an "extremely tiny" chance it could crash into the planet, but quickly added: "I wouldn't hold your breath."
Musk's intention of establishing a city on the Red Planet is well-known – and the expectation is that rockets like the Heavy will be used to transport building materials to Mars.
Even if the Roadster makes it into space in one piece, it still must endure several hours of deep-space coasting through the high-energy Van Allen radiation belts which circle the Earth.
If all goes according to plan, the Roadster could end up orbiting the Sun for a billion years.
Are there any other rockets like the Heavy?
Blue Origin, an aerospace company run by Amazon chief executive Jeff Bezos, is developing a large rocket which promises to give Heavy a run for its money.
Nasa, meanwhile, is sinking billions of dollars into a massive new rocket called the Space Launch System (SLS), which is meant to return astronauts to the moon and also get them one day to Mars.
SpaceX already has payloads lined up for the Heavy, two of which are large telecommunications satellites that will have a geostationary orbit some 22,370 miles (36,000km) above the Earth.