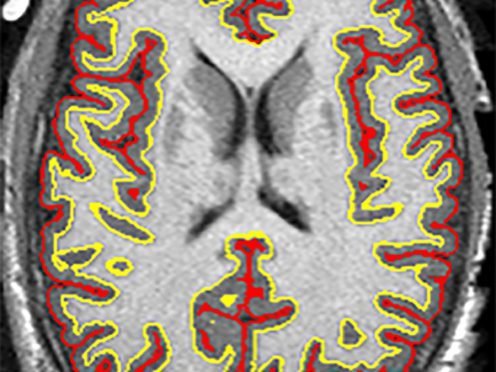 A drug has been shown to slow down brain shrinkage in patients with a severe and disabling form of multiple sclerosis (MS).
Brain scans revealed a striking difference between trial patients given the drug ibudilast and those who took an inactive placebo.
Both both groups experienced some brain atrophy.
But the brains of patients randomly assigned to the placebo group shrank in volume by an extra 2.5 millilitres on average over two years.
The whole human brain has a volume of around 1,350 millilitres.
Whether or not this difference can affect symptoms is unknown at present.
Dr Walter Koroshetz, director of the US National Institute of Neurological Disorders and Stroke (NINDS), which supported the study, said: "These findings provide a glimmer of hope for people with a form of multiple sclerosis that causes long-term disability but does not have many treatment options."
All 255 patients taking part in the study were suffering from progressive multiple sclerosis, a form of the disease that causes steadily worse levels of disability.
MS is an auto-immune disease that causes the body's own immune system to destroy the insulating fatty myelin wrapped around nerve fibres.
When myelin breaks down, communication between brain cells is disrupted leading to problems with movement, balance, sensation and vision.
The new findings appear in the New England Journal Of Medicine.
Study leader Dr Robert Fox, from Cleveland Clinic in Ohio, US, said: "The trial's results are very encouraging and point towards a potential new therapy to help people with progressive MS."
Trial patients given ibudilast took up to 10 capsules of the drug per day for 96 weeks.
Every six months, the participants underwent magnetic resonance imaging (MRI) brain scans.
Ibudilast is an anti-inflammatory drug that has neuro-protective effects.
It is already used in the treatment of asthma and stroke.