The amount of money taxpayers have stumped up to cover redundancy payments for staff at failed companies has more than doubled in the first half of 2020, as businesses contend with the fallout from the Covid-19 pandemic.
New data shows that the Insolvency Service has more than £244 million to cover redundancy, holiday pay, pay arrears and notice pay for staff at companies that have been forced to close their doors.
The payments, in the first six months of 2020, are more than 120% up on the same period last year, according to Government data which was released after a freedom of information request from Altus Group.
After a company enters administration, liquidation, company voluntary agreement or other insolvency, the Insolvency Service will pay the redundancy the company's workers are owed as well as other cash such as holiday pay.
Officials then try to reclaim some of this money when the company's assets are sold off to cover its debts.
Just over £170 million was paid out as redundancy cash, while £42.7 million was for money that would have been earned if the staff had worked their notice period.
Last year only £110.4 million was paid out by the Insolvency Service, the data shows.
Many of the failures have been in the retail sector which was forced into complete shutdown for several months to slow the spread of the coronavirus.
The Government stepped in with support, including picking up the tab to pay furloughed staff, and writing off more than £12 billion in business rates.
Altus head of property tax Robert Hayton said that with the business rate holiday set to end next March, companies will still need support.
Rates will have to go down in order to help out firms, this could be done by reducing the so-called rateable value of businesses, which decides how much they have to pay to the Government.
"As conditions improve, values will then be able to track those improvements ensuring fairness, a form of phasing if you like," he said.
"This should be supplemented by discerning targeted additional support for viable, vibrant retail that is now struggling as a direct result of Covid-19."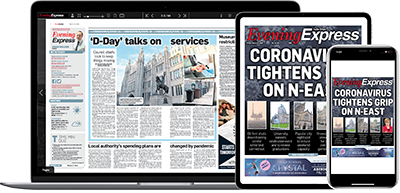 Help support quality local journalism … become a digital subscriber to the Evening Express
For as little as £5.99 a month you can access all of our content, including Premium articles.
Subscribe