Stock exchanges around the world have closed the day up much higher despite some of the worst economic data ever to hit markets.
The FTSE 100 rose 452.12 to 5446.01, a 9.05% increase.
It came after figures from IHS Markit and CIPS revealed the lowest UK purchasing managers' index in the survey's 20-year record.
It means the economy is contracting at its worst rate since the beginning of the century.
Traders were buoyed by reports from the US where it seems likely that legislators might come up with a massive stimulus package to breathe new life into the economy.
Ripples were felt throughout the world as the New York exchanges opened strongly. The S&P 500 was up by around 9%, and the Dow Jones rose nearly 10% shortly after markets closed in the UK.
Markets in Europe performed well, with the German Dax closing the day 11% higher, and the Cac in Paris gaining nearly 5%.
David Madden, an analyst at CMC Markets, said: "Speculation of a major stimulus package from the US government has boosted sentiment in equity markets.
"Recently there has been support from various governments and central banks, but there has been some to-ing and fro-ing in Washington DC, so traders are waiting to see what the Trump administration will deliver."
He added that the German government was likely to step in with measures of its own shortly, after terrible PMI figures earlier in the day.
A pound now buys 1.1769 dollars, a near-2% increase. It can also be exchanged for 1.0915 euros, a 1.5% rise.
In company news, Frasers, the company behind Sports Direct, gained 1.1% even as it was revealed that it hiked prices by more than 50% on some sports equipment on Tuesday, amid the coronavirus pandemic, according to internal documents seen by the PA news agency.
Jack Wills, another Frasers Group retailer, is forcing staff into stores despite Government advice for all employees to stay home unless they are an "essential" worker, workers told PA.
Wetherspoons founder Tim Martin saw his shares in the company boosted by 22% even as he told staff to "go work at Tesco" as the pubs firm warned them they could face pay delays.
The company, which employs 40,000 people, shut all its sites on Friday after Prime Minister Boris Johnson ordered all pubs to shut until further notice in response to the coronavirus crisis.
JD Sports was another company forced to close its doors which nonetheless saw a massive spike in its value. Shares gained 19% as it shut down "essentially all" of its stores across the UK, US and Europe following the spread of coronavirus.
Luxury car maker Aston Martin Lagonda joined the gainers, at 15% up, despite suspending production at its UK manufacturing sites for nearly a month due to the Covid-19 crisis.
Insurance giant Prudential rose by a similar amount as it confirmed it is considering "other options" for its US business alongside a flotation amid stock market turmoil.
Despite a warning from Mulberry that it expects to slump to a second-half loss after trading was "severely impacted" by the coronavirus crisis, the retailer gained more than 22%.
NMC Health revealed it had found another 1.6 billion dollar (£1.4 billion) debt pile it did not know it had, weeks after announcing a similar 2.7 billion dollar (£2.1 billion) find.
The biggest risers on the FTSE 100 were Carnival, up 234p to 1062p, Royal Dutch Shell B, up 244.6p to 1312.2p, BP, up 55.45p to 312.35p, Anglo American, up 228.2p to 1320p, and Royal Dutch Shell A, up 229.8p to 1357.2p.
The biggest fallers were Reckitt Benckiser, down 106p to 5759p, AB Foods, down 20p to 1607.5p, Ocado, down 15p to 1250.5p, and ITV, down 0.02p to 60p.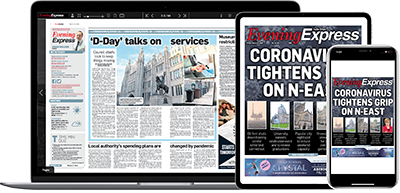 Help support quality local journalism … become a digital subscriber to the Evening Express
For as little as £5.99 a month you can access all of our content, including Premium articles.
Subscribe