Pension providers are having to stand by and watch as customers transfer their life savings to potential scammers, a report claims.
Research from pension scheme the People's Pension and policing think-tank the Police Foundation, conducted among 13 unnamed pension providers, found that 938 customers with combined savings of £54 million were potentially targeted by scammers in 2019.
Nearly two-thirds of customers had insisted on the transfer going ahead, with £31 million potentially lost.
The People's Pension argued that, while pension providers can flag potential fraudulent activity to customers, neither they nor the Pensions Regulator have sufficient powers enabling them to block suspect transfers.
The report said that, while there have always been fraud risks around pensions, the pension freedoms introduced in 2015 giving savers more flexibility around unlocking their pots have made savings more vulnerable.
Suspicions around transfer requests may be raised if cold-callers are involved, if investments in the scheme receiving the transfer are considered to be high risk, or if there has been a high volume of transfers in a short space of time.
Phil Brown, director of policy at the People's Pension, said some scam victims end up being forced to sell their homes after losing their life savings.
He said: "Currently, pension providers can flag a potential scam to a customer, but we can only stand by and watch if the individual chooses to proceed with a risky transfer that could result in them losing all their savings.
"We're calling on the Government to provide pension providers and regulators with the powers to stop risky transfers and ensure victims of fraud aren't hit with having to pay tax penalties on their lost savings."
Rick Muir, director of the Police Foundation, said: "In terms of financial losses and overall wellbeing, pension scams are among the most harmful types of fraud and it is therefore vital that they are taken seriously by law enforcement."
A spokesman for the Pensions Regulator (TPR) said: "Pension scams devastate lives. On average a victim loses £82,000. Once that money's gone, it can be gone forever.
"TPR and its Project Bloom partners are dedicated to stopping scammers.
"We are working together to tackle scammers head on, using our powers to investigate and prosecute.
"We will continue to bring scammers to justice. But we also know education is one of our best weapons in that battle. Anyone can be a target, which is why it's vital all savers should be ScamSmart, know the common signs of a scam and always check who they are dealing with.
"Savers can find more information on protecting themselves from scammers at https://www.fca.org.uk/scamsmart."
Ros Altmann, a former pensions minister, said: "Unless pension providers are able to help prevent more scams, the dangers will continue to grow.
"But they do not have sufficient power to do so. Currently, providers are required to transfer funds speedily, even if they suspect a scam and it takes so long to detect and confirm scams that many people have already lost out before anything is ever done."
Baroness Altmann continued: "It is astonishing that, so far, there is no centralised database to help providers check whether others have already spotted the same potential scams and improve the likelihood of being able to protect consumers before transfers proceed.
"Once the money has gone, it is almost never recovered. Even worse, some customers will find that not only have they lost their pension, they are also liable for large tax payments because they have supposedly withdrawn their funds before they disappeared."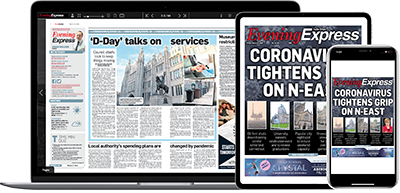 Help support quality local journalism … become a digital subscriber to the Evening Express
For as little as £5.99 a month you can access all of our content, including Premium articles.
Subscribe