Credit and debit card transactions dipped in June despite more of the high street being open for business, according to a trade association.
Card spending figures from UK Finance showed 933 million debit and credit card transactions were made in the UK across the month, marking a 2.7% fall compared with May, and 43.1% down on June 2019.
Many people kept much of their shopping online, with online card spending accounting for 22% of the volume of transactions in June, up from 14% a year earlier.
June also saw the UK's annual growth rate of outstanding balances on credit cards continue to decline, falling by 13.4% year-on-year, suggesting customers used the lockdown as an opportunity to pay down credit card bills.
The total value of credit card transactions increased by 22.9% in June compared with the previous month.
UK Finance said this could suggest a willingness among households to make bigger one-off purchases, such as household goods, as they spend more time at home.
Some 56% of debit card transactions in the UK during the month were made using contactless cards, reflecting the new £45 contactless payment limit that was recently increased from £30.
Eric Leenders, managing director of personal finance at UK Finance, said: "While card activity is still significantly below pre-lockdown levels, there has been steady growth in the value of purchases using payment cards in recent months. Despite non-essential shops reopening in England in mid-June, there was actually a drop in the number of card transactions in the UK compared to the previous month.
"Lower spending and maintained repayment levels suggest that customers may have used the opportunity to pay down their credit card bills and reduce any debts – as the annual growth in outstanding balances contracted by 13.4% in the year to June 2020."
Federation of Small Businesses (FSB) national chairman Mike Cherry said that while contactless may be seen as a safer way to pay in the current climate: "We do have to be conscious, however, of the risk of coronavirus accelerating the move to a cashless society that we're not necessarily ready for yet.
"Small retail businesses are being held back by a lack of competition in the card terminal space – accepting card payments can be costly, especially if you're paying for a premises and already have a lot of overheads. We welcome the Payment Systems Regulator's efforts to improve this market for the better and ensure more small firms have a fair deal.
"It's also important to remember that a lot firms still lack access to basic broadband, making installing card terminals a real challenge.
"Equally, thousands of small businesses still have customers, often among society's most vulnerable, who want to pay in cash.
"The Government has promised legislation to protect these consumers, and we look forward to working with it to ensure new laws around access to cash work for both shoppers and small firms alike."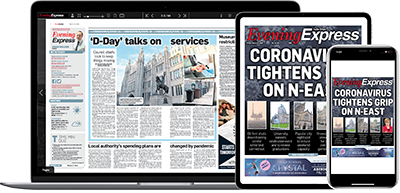 Help support quality local journalism … become a digital subscriber to the Evening Express
For as little as £5.99 a month you can access all of our content, including Premium articles.
Subscribe