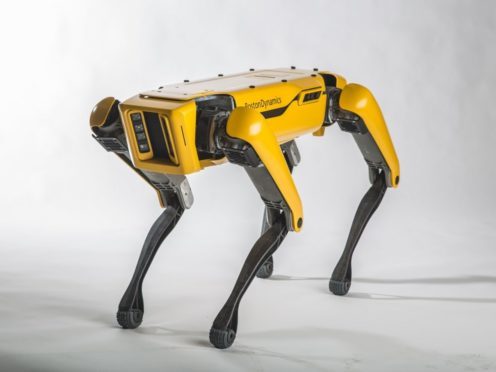 Boston Dynamics has announced it will begin selling its SpotMini robot in 2019.
Company founder Marc Raibert said at an event in California that the robot is in pre-production and preparing for commercial availability next year.
Introduced in 2017, SpotMini is a small, four-legged robot that weighs 30kg. The robot can run for about 90 minutes on one charge, depending on what it is doing.
Speaking onstage at TechCrunch's TC Sessions: Robotics 2018, Raibert said: "The SpotMini robot is one that was motivated by thinking about what could go in an office – in a space more accessible for business applications – and then, the home eventually."
SpotMini is capable of being driven semi-autonomously, and is able to navigate itself using a series of cameras.
The robot's main frame has cameras in the front, sides, and at the back. It can be upgraded with a series of attachments, including an extended arm.
Raibert said: "We have a surveillance package where we have special … low-light cameras that can mount on the back, there'll be a camera that goes in the arm … and that computer is one that's designed to take user code.
"The application is very much like the industrial security one, where you want to go around and use your sensors in order to assess what's going on, but here it's in a process where the environments are changing every day, the terrain is very varied."
Boston Dynamics also released a video of the robot in autonomous mode navigating through an office and lab facility, using data from its cameras to detect and avoid obstacles.
Raibert said the company has plans with contract manufacturers to build the first 100 SpotMinis later this year for commercial purposes, with the goal of selling the robot in 2019. So far 10 prototypes have been built.
The company did not announce the price of the robot at the event.