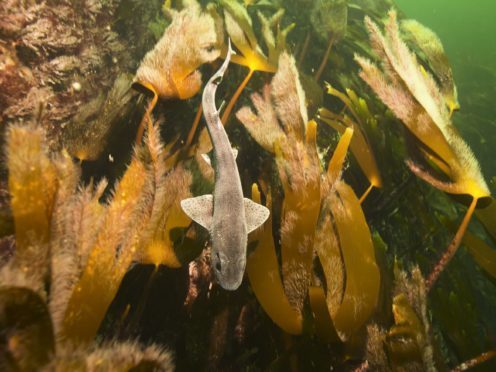 Bosses at a Scottish firm which sparked protests after bidding to harvest kelp from the seabed have urged naturalist Sir David Attenborough to meet them to discuss their proposals.
David Mackie, the co-founder of MBL (Marine Biopolymers Ltd), insisted their proposals would see the plant "removed in a sustainable manner".
He called on the Blue Planet broadcaster to meet him after Sir David insisted it was "absolutely imperative" that action was taken to protect kelp in Scotland's waters.
Sir David, who is the vice president of the conservation group Fauna and Flora International (FFI), claimed that dredging the plant would be a "wholly short-sighted measure that risks the wholesale devastation of our kelp beds".
But Mr Mackie said the veteran broadcaster had been "badly briefed and misinformed on MBL's plans".
As a result he said the firm would "welcome the opportunity to meet and engage with him directly on our proposal".
The Ayr-based firm believes there is a "growing global demand for natural materials" that can be extracted from seaweeds, stressing their use is "both safe and effective".
The company submitted an application, which was the first of its kind in Scotland, to harvest kelp using specially adapted boats in the waters off the country's west coast
More than 14,000 people signed a petition against that, while the Help the Kelp campaign was established by the Sustainable Inshore Fisheries Trust (SIFT).
Mr Mackie said: "Like most people who have a love of the sea, everyone at our company very much supports Sir David Attenborough's position in relation to the environment, sustainability and the protection of Scotland's kelp and marine habitats.
"However, it is clear that he has been badly briefed and misinformed on MBL's plans and we would welcome the opportunity to meet and engage with him directly to discuss our proposal."
He continued: "We are not involved in dredging as has been constantly suggested by our critics. Instead, the kelp is removed in a sustainable manner.
"We remove the fully-grown kelp, in the same way as happens naturally, because this is the best way to allow new plants to grow and continue the regeneration of these important kelp forests."
Mr Mackie said: "MBL is a serious company with a big role to play in the development of the circular economy, which has the potential to deliver a global, environmentally-sound and sustainable industry for Scotland, with dozens of high quality jobs."
Sir David spoke out as MSPs in the Scottish Parliament prepare to vote on new legislation, which if passed, would ban dredging for kelp in Scottish waters.
Green MSP Mark Ruskell successfully amended the Scottish Crown Estate Bill to ban the removal of entire kelp plants, allowing harvesting only where the plant could recover.
The legislation is due to come before Holyrood for approval in November, with Sir David having urged "decision makers to take the necessary action to protect these vital, and globally important, habitats".