A one-off roadster has been commissioned by a Ferrari collector, harking back to V12 roadsters of the 1950s and '60s.
Built by the Italian firm, the SP3JC is based on the chassis and running gear of the limited-run F12tdf, but loses the roof and gains a bespoke design.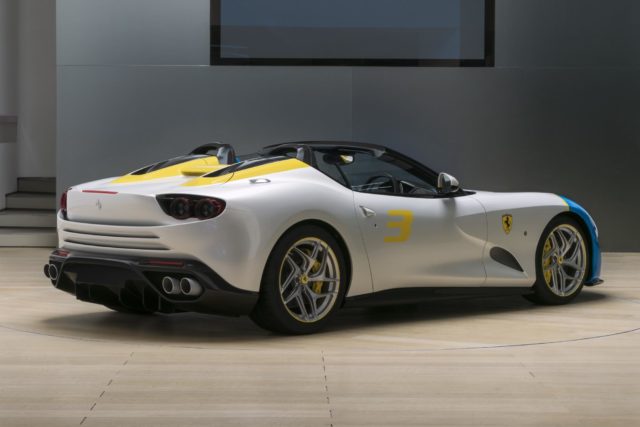 The front of the car remains recognisable as its donor car, albeit with a reshaped bumper design bringing new air intakes, although the rear has seen a large overhaul — boasting a unique aesthetic, with quad taillights and a slotted bumper design.
Ferrari says the car's commissioner, an unnamed collector, has a passion for pop art which has influenced this white base paint, feature blue and yellow accenting on the bodywork.
Other design details include a small glass window on the bonnet that can give onlookers a view at the 769bhp, 6.3-litre V12 power unit, along with a brushed aluminium fuel filler cap.
Inside the car, the seats are trimmed in blue leather — which also extends to the lower section of the dashboard — and each also features a narrow white stripe.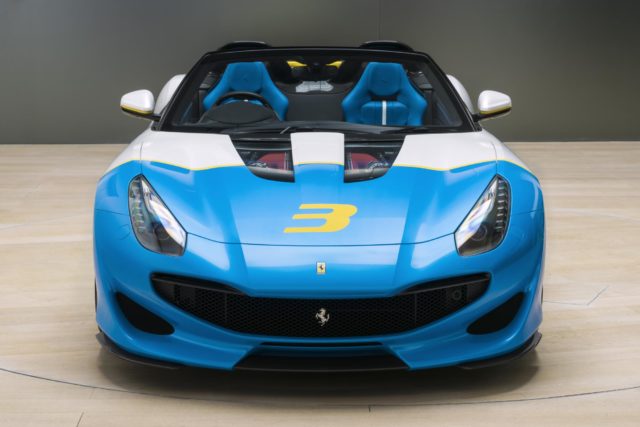 It's unknown how much the anonymous Ferrari client paid for the creation of the SP3JC, but we suspect it's another case of if you have to ask, you can't afford it.