London's Air Ambulance has struck a fresh deal with Skoda to renew its fleet of support vehicles.
The charity will receive five new vehicles to replace its existing machinery from the Czech manufacturer, adding three Octavia vRS estates and two Kodiaq 4x4s to the fleet.
The Skodas will be used as support vehicles for the London Air Ambulances' two helicopters — acting as response vehicles overnight and in adverse weather conditions, when the helicopters are unusable. They will be stationed at The Royal London Hospital in east London.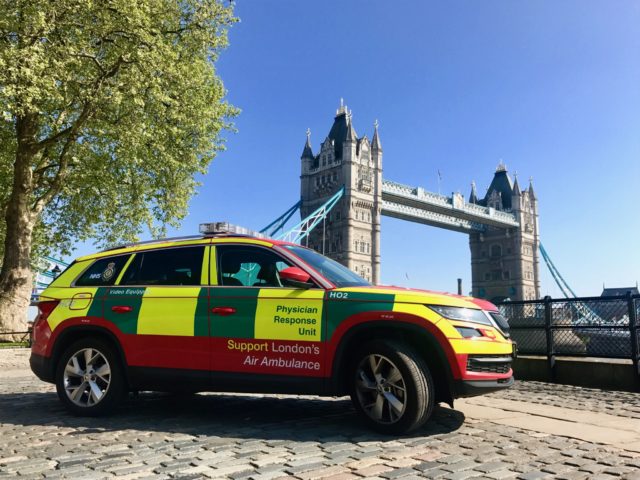 Paul Smith, driving standards manager at London's Air Ambulance, said: "We provide a vital service to the capital transporting an advanced trauma doctor and paramedic to seriously injured people.
"Whilst the helicopter can reach patients in a matter of minutes, our fleet of rapid response cars is also critical to serve the community and ensure that we are ready to respond instantly in all-weather conditions. The reliability and performance of Skoda continues to meet the demand of our service and we are pleased to renew the contract once again."
Skoda says the charity chose the Octavia vRS for its practicality and durability, while the Kodiaq 4×4 brings all-terrain capability to its fleet. The five vehicles are on a three-year lease through Volkswagen Financial Services. The new deal builds on an existing relationship that has seen London's Air Ambulance use Skoda cars as response vehicles for 12 years.
Henry Williams, head of fleet for Skoda UK, said: "London's Air Ambulance service places heavy demand on its vehicles and it's fantastic to see that they continue to perform excellently under pressure.
"The Kodiaq will be a new addition to their fleet and its combination of high-performance, 4×4 capability and fuel economy will prove a resilient partner to the team."