Lamborghini has given the convertible treatment to its track-focused Huracan Performante supercar.
Mechanically, it's almost identical to the coupe version that was released last year. That means there's a 631bhp, naturally aspirated V10 sitting in the middle of the chassis, active aerodynamics and lightning performance.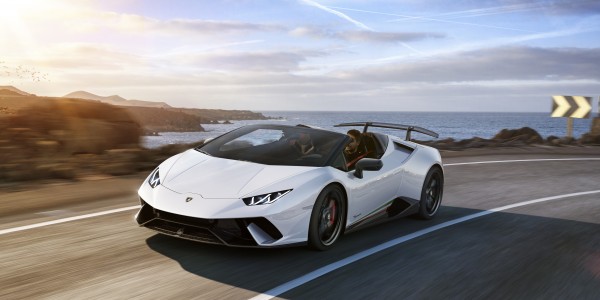 When the Huracan Performante was announced, Lamborghini made a big deal about its active aerodynamics system, which can change the angle of the wings on each side of the car to alter downforce and improve handling. The firm says that it has managed to chop the roof off without affecting this system, so on-track performance should be nearly indistinguishable from the coupe.
However, the addition of the soft top has seen the weight increase from 1,382kg in the coupe to 1,507kg in the Spyder. This means that despite the identical power output, accelerating from 0-60mph now takes 2.9 seconds instead of 2.7 – though it's unlikely you'll notice this difference.
Much like the car it's fixed to, the electronically retractable roof is a speedy unit. It can open in 17 seconds at speeds of up to 30mph, and when stored away is said to maintain the car's perfect centre of gravity.
Stefano Domenicali, chief executive of Lamborghini, said: "The Huracán Performante Spyder takes the zenith of Huracán developments, combined with the enhanced emotion of driving a convertible.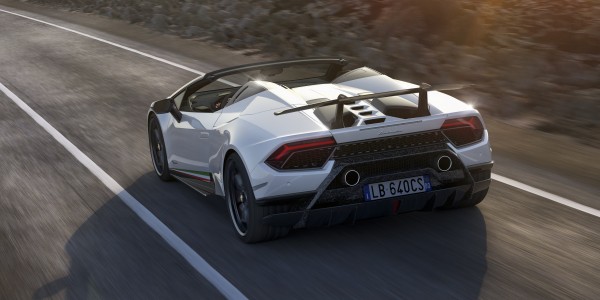 "The Huracán Performante already provides the most heightened feedback and emotion from road and track, and the Huracán Performante Spyder puts the driver even closer to asphalt and air, as well as the unique resonance of a naturally-aspirated Lamborghini engine."
Deliveries of the Lamborghini Huracan Performante Spyder will begin in summer 2018, with prices starting from £195,078.