With the start of the school summer holidays kicking in, the coming weekend is set to be one of the year's busiest on the roads.
That's according to the RAC, which asked 2,300 motorists about their weekend travel plans to try to calculate the number of extra vehicles set to take to the UK's road network in the pursuit of leisure.
The RAC estimates it will peak on Friday, as traffic from 3.8 million separate leisure trips meets the regular rush-hour commute.
RAC traffic spokesman Rod Dennis said: "This weekend tends to be one of the busiest on the roads for leisure journeys after Easter and Christmas. On some popular routes, this may well mean gridlock, especially through the second half of Friday when commuters and holidaymakers will be sharing space on the same stretches of the UK's roads. As a result, it will almost certainly feel like a 'frantic Friday' for some."
The most hectic stretch is expected to be the M40 southbound between junctions 3 and 1a. Drivers there can expect a delay of an hour and a half if they hit that stretch at lunchtime. The M5 between Gloucester and Devon is expecting a delay of an hour and a quarter in the late afternoon, while those on the A303 between the M3 and A37 can expect delays of an hour.
As always, a single traffic collision, breakdown or other incident could lead to these times increasing dramatically. The RAC therefore advises travelling outside of peak times, ensuring your car is well maintained and providing plenty of food, water and rest breaks for harmony between driver and passengers.
Dennis added: "Where possible, we'd recommend drivers try to avoid the busiest times on the roads – or just allow for a longer journey by planning in enough stops, especially if travelling with young children.
"It's also essential drivers know their vehicles are up to the job before setting off on a long drive – there are few worse ways to start a summer holiday than being stuck at the side of the road. A 10-minute check of the condition of the tyres on a car – and on a trailer or caravan if you have one – and of the oil and coolant levels could save hours of misery."
This weekend probably won't be an isolated occurrence, either. "The next peak after this weekend will be Saturday 28th July according to our research, by which time the vast majority of schools in England and Wales will have broken up for the summer," said Dennis. "And if the weather remains fine, that could lead to many more people deciding to jump in the car to enjoy a short-notice 'staycation', adding to the weight of traffic."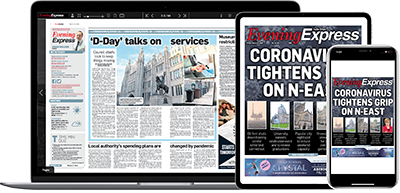 Help support quality local journalism … become a digital subscriber to the Evening Express
For as little as £5.99 a month you can access all of our content, including Premium articles.
Subscribe