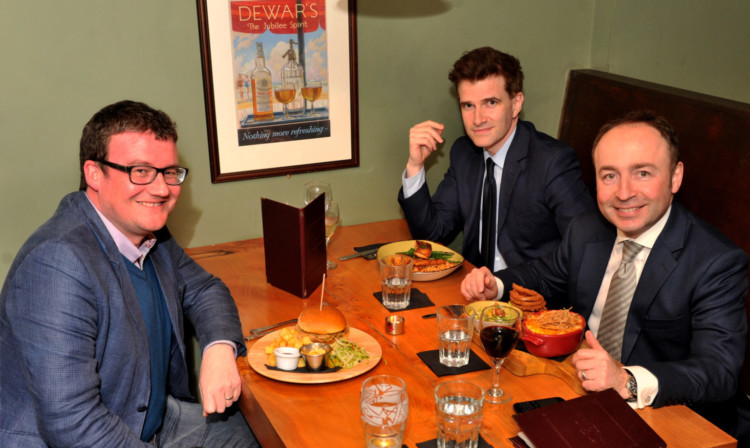 FINALLY holding true to my promise to meet an old friend for dinner, I booked a table for two at The Tippling House.
Having sampled cocktails in the cool, subterranean bar before, I was excited to see how the food would compare to the drinks.
The online booking service was quick and easy to use, and I received a confirmation e-mail of my booking just moments later as well as a handy reminder on the morning of my visit.
But the booking service was left completely redundant when my friend and I arrived at the Belmont Street restaurant 10 minutes before our allotted time to have the waitress inform us that there were no bookings under my name.
A table was found for us near the bar and beside the kitchen and staff point, which irked me a little considering around half of the restaurant tables were empty and remained that way throughout our meal.
The menu was presented beautifully.
and, feeling ambitious, we ordered the vegetarian sharing platter, which we were told was ideal for two to three people, depending on hunger.
After around 20 minutes our starter arrived, and it was absolutely worth the wait.
A rustic wooden board overloaded with goodies was placed in front of us. The macaroni cheese was obviously oven-fired and topped with delicious, slightly sweet crispy onions.
Underneath the golden brown crust was a thick sauce loaded with cheese.
The roast squash and bean burrito had a mild flavour which was welcome alongside the spicy, Cajun blackened corn cobs. The cobs, drizzled in butter and vibrant spices, instantly transported me to Louisiana.
The potato wedges were among the best I've had piping hot, with a slightly crispy, salty skin and fluffy interior.
The goat's cheese and beetroot stromboli, a rustic bread stuffed with filling, combined the mild flavour of root vegetable with a cheesy tang.
The generous platter would easily have filled three diners, and I was relieved I had chosen a small plate for my main.
But when my mini pulled pork brioche slider arrived, I was disappointed. The solitary slider was plonked on the plate with no garnish, no salad, and zero flair. In comparison to my friend's huge bowl of pork belly with sweet potato mash, crispy onions and greens, it looked meagre.
Thankfully the pulled pork redeemed the plate a little. The meat was extremely tender and shredded very finely, all pulled together with a rich, slightly sweet and mellow gravy. Under the pork was a slice of peppery, soft black pudding which gave the dish balance and stopped it from being too sweet.
But when I lifted the black pudding off the bun, I thought there was another slice in fact the bun was just so charred it was black.
It was a huge shame, because it detracted from the fantastic filling but it must have been clear to the chef when the slider was assembled that the bun was burnt.
My friend had no complaints with her meal and when I tried it I could see why. The pork belly was very crispy on top, as it should be, with a soft layer of fat and tender meat.
A bed of smooth sweet potato mash was surrounded with a rich onion gravy and dusted with crispy onions.
The lack of consistency and quality left me unsure what to make of this restaurant, and I think it will take a second visit to make up my mind.