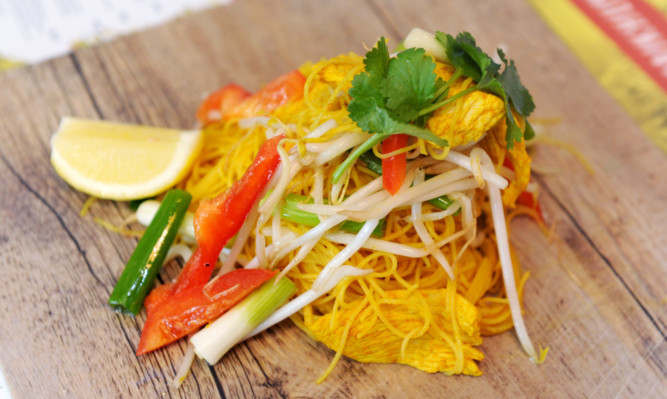 THEY do say that good things come to those who wait.
And we had been waiting some time to even get through the doors of Thaikhun, a place so popular walk-ups had no chance and the odd attempt at booking never yielded a time to suit.
The solution was a bit of lateral thinking and a late Sunday lunch/early Sunday dinner.
We strolled through the door and were shown to our table by a waiter without hesitation. Result.
The first thing that strikes you about Thaikhun is the decor, tricked out like a bustling Thai market as befits the street food of which it boasts.
Huge bundles of goodness knows what hang from the ceiling, sacks of rice are dotted around, pictures of Thai royalty, bunting and the odd phallic-looking sculpture. Yeah, this is a place with a different, exotic look.
So is the menu, crammed with things you've never heard of and are really, really tempting.
And I was really tempted on the starter front by the fresh prawn rolls wrapped in rice paper, or por pia sod.
They sounded like a dish I used to enjoy in a Vietnamese restaurant in Canada, and had never seen since, but so good I dreamed of them.
These beauties nearly had me living the dream again. The soft bite of the rice paper gave way to the crunch of carrot, mint and basil, the tenderness of a huge prawn and a slap of chilli for a bit of zest.
It was delicious.
Mrs B, meanwhile, was raving about her chicken satay skewers, with tender marinated breast, choice of dips and toast an authentic touch according to the menu.
Plates cleared, we waited for the mains in anticipation. And waited.
A touch slow on the getting food to us front, we were on the verge of nudging a waiter when the dishes arrived with a bit of a flourish.
I had been looking forward to my khao ka moo, highlighted in red on the menu and billed as a "must try" and priced at an eye-catching 7.77 for "lucky seven."
The rest of the description was tantalising, "a street hawkers (sic) pride" with five-spiced stewed pork, kale, a boiled egg and a garlic and chilli sauce. Wow.
Except the description forgot to mention said stewed pork was pork-belly. That's not a cut I would normally choose given its fattiness. And fat was very much to the fore here, to the point where I wavered about asking if it was right. But, hey, maybe that's how street hawkers like their stew. It was tasty though, packed with flavour and a pickled tone to the kale.
Alongside my plate a small bowl had been popped down with a clear liquid in it. I wasn't sure if I was supposed to dip stuff in it, pour it over something or wash my fingers in it. On asking I was told it was a broth for drinking. And pleasant it was too, a bright contrast to the earthy stew.
Meanwhile, Mrs B was picking over her phad mee phuket, a vermicelli noodle stir fry with chicken, peppers, onion, turmeric and curry powder. And egg. Lots of egg. Mrs B hates egg.
It wasn't listed as an ingredient. A theme was emerging.
While she conceded it had great flavour, it had to go back and the waitress returned with one with no egg. And no flavour. Sigh.
The waitress asked how it was, Mrs B started to tell her and she strolled away. Which is one way to tackle customer service. Sigh.
It was a down note to the experience, which went down a notch further when we were told they weren't taking card payments.
Only when challenged about everyone else we saw paying by cards were we told there was now a server fault. Sigh and cue a walk to the bank machine.
Good things come to those who wait. Hopefully Thaikhun won't wait too long to sort out what appear to be some teething problems for a new-ish venture.