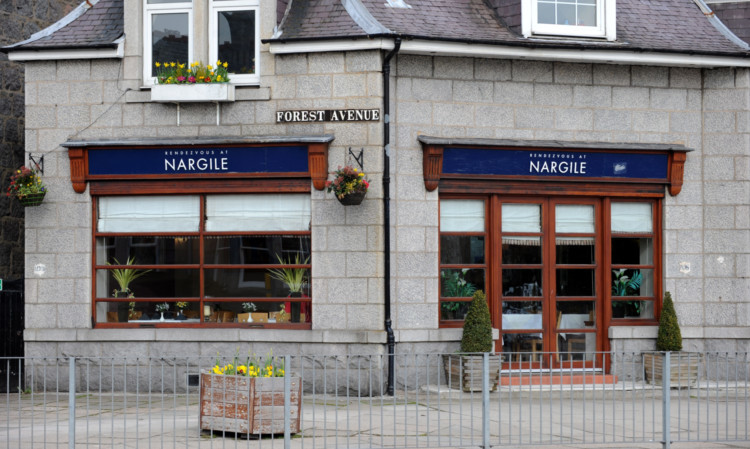 THE Rendezvous@Nargile has long been on my wish list of restaurants I wanted to visit.
But being a dreadful last-minute planner, I've usually found the award-winning restaurant was fully booked any time I've tried.
So I was surprised, and delighted, when I phoned on a Saturday lunchtime to be told they had a table for two at 6pm that evening.
It was a bit earlier than my sister and I had planned to eat, but I wasn't going to miss out again.
And as we watched the dining room quickly fill up, we realised we'd been very lucky to get a table at such short notice.
The restaurant was as warm inside as the welcome we received after being blasted in through the door by the bitterly cold wind.
And the simple decor and soft lighting added to the cosy, inviting atmosphere.
Although we were tempted by the very good value supper menu 15.95 for two courses there were a host of delights on the a la carte menu that were just too good to miss.
One of those was a personal favourite arancini fried tomato and basil risotto balls covered in breadcrumbs with a mozzarella centre.
They're now one of my sister's favourites after she tried them for the first time.
The Rendezvous@Nargile clearly doesn't stint on either portion sizes or presentation. The three fat arancini, delightfully arranged on a delicate salad with a savoury yoghurt dip, were everything we'd hoped for. The soft, tangy tomato and basil flavoured risotto balls, with their gooey mozzarella centre, were mouthfuls of Mediterranean delight.
There something wonderfully exciting about ordering dishes with exotic names you don't understand … will they be something special or are they just names for something quite ordinary?
There was nothing at all ordinary about my main choice of Firinda Ferner Baligi (oven-roasted monkfish, topped with tomato, basil and mozzarella cheese) nor my sister's Keremitte Levrek (marinated sea bass fillets, oven roasted and served on a bed of roasted Mediterranean vegetables).
The lovely taste of meaty monkfish shone through the perfectly balanced flavours of the tomato, basil and cheese topping a delicious combination. The bed of kus kus it was served on was the best I've ever tasted, soft, moist and infused with delicate lemon and herb flavours.
My sister's sea bass was perfectly cooked, the marinade and vegetables laced with a wonderful spicy kick of cumin and smoked paprika.
We cleared our plates … this was great grub.
Did we want to see the dessert menu?
Did we have room for pud? We had a peek anyway and my sister just couldn't resist the sticky toffee pudding.
As much as I'd have liked to join her I instead opted for a mouth-wateringly refreshing scoop of lime sorbet. It was tinglingly tangy and laced with tiny pieces of lime rind. The perfect palate cleanser.
My sister's plate of pudding was as lovely to look at as it was to eat (I had to try one little bit!). The moist sponge was as light as air yet full of flavour. The not-too-rich toffee sauce was one of the nicest we'd tasted.
The Rendezvous@ Nargile was voted Best Mediterranean Restaurant last year … it's not surprising.