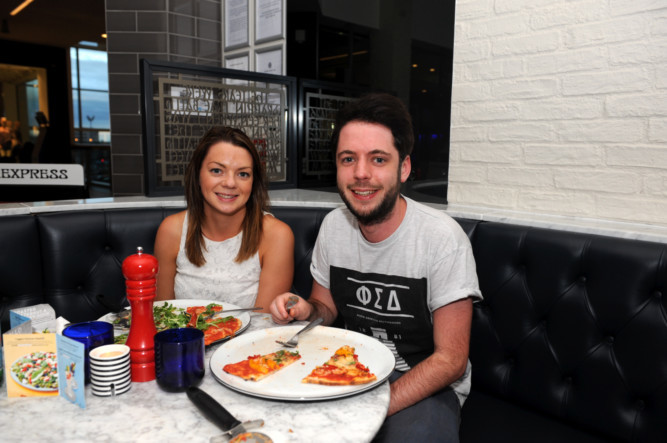 WHENEVER I go for a second, third or fourth visit to a restaurant, I like to order something different from what I've had before.
But at Pizza Express, I break my own rule and order the same thing every time.
Since I first discovered it years ago, the rustichella pizza is my all-time favourite.
Loaded with crispy pancetta and rocket, it's seriously moreish and sets the bar high for any other pizza.
So on my most recent visit to the chain's newest restaurant in Union Square, I barely even glanced at the menu before placing my order.
The new eatery fits the Pizza Express bill perfectly it's clean, contemporary and chic.
Seated at a booth by the entrance in prime position for people watching my friend Richard and I ordered and watched the world go by.
But with barely any shoppers going by, all the action was inside the packed restaurant.
Almost every table was full but the waiting staff had a smile for everyone and there was a great, lively buzz about the place.
Disappointingly however, my single portion of doughballs recommended by the waitress herself took around 25 minutes to arrive and came with a rather measly scraping of garlic butter.
The dish was redeemed by the fact there were plenty of doughballs certainly too many for me to finish on my own and they were fired to perfection and delightfully chewy.
Another fair wait after our doughballs disappeared, our two pizzas arrived.
By this time I was ravenous, and had guzzled my way through multiple glasses of sparkling water and a beautifully crisp and fresh glass of the house pinot grigio.
Tucking into the huge pizza, my hunger was quickly satisfied.
The romana base was incredibly thin and crisp and topped with a generous dollop of rich and slightly tangy tomato sauce.
The crispy, salty pancetta and sun-dried tomatoes were a highlight, I just wish there had been slightly more of each. But combined with the creamy, garlicky taste of the Caesar salad dressing, the flavours were light, zingy and fresh not the usual description for a pizza.
Piled high with peppery rocket leaves, the dish was really colourful something which Richard's Etna pizza was lacking.
The base, which was supposed to be finished with soft n'duja sausage, roquito peppers and ham, seemed distinctly lacking in toppings, and the pizza looked more like a mass of tomato sauce sprinkled with cheese.
In terms of flavour though, it packed a serious punch.
With my Pizza Express ordering tradition fulfilled, I thought it would be the perfect opportunity to find a new favourite dessert. Tempted by the tiramisu and chocolate fudge cake, I was finally swayed by the toffee fudge glory.
A towering knickerbocker glory glass chock full of ice cream, toffee sauce and wafers arrived in front of me.
Hidden between the deliciously creamy layers of vanilla ice cream and sweet toffee sauce were little chunks of soft fudge and I hit the jackpot when I got to the bottom of the dish and there were dozens of the little cubes there.
Glancing at the time, I was surprised to see that we had been in the restaurant for well over two hours.
While I do enjoy taking my time over a meal, almost two and half hours seemed a little excessive for a quick bite on a weekday evening.
Thankfully the friendly service and tasty grub made up for the slow speed of service, and I can't imagine it will be too long before I'm back for my favourite dish again.