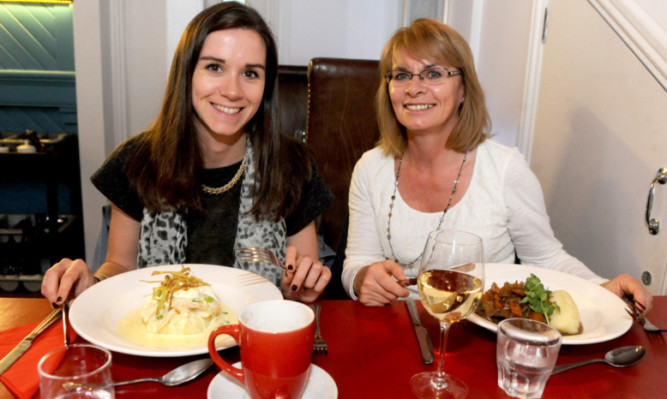 INSTEAD of hiding away in a pub or running around the supermarket on an empty stomach searching for food, a restaurant can be a welcoming place even to a solo diner.
A lot of people are intimidated by dining by themselves in a restaurant, but not me,
I'm used to it, in fact I quite like it.
With an empty stomach and the desire to eat somewhere that offers both a good selection of food and drink as well as a bit of an atmosphere, I was recommended to try Musa on Exchange Street in Aberdeen.
I've heard good things. More than once the restaurant has come up in conversation, when I asked for the best place to go to sink my teeth into something delicious.
I walked through the doors to find something a bit different to what I've seen elsewhere in Aberdeen.
It's a restaurant, come music venue, come art gallery and it's an amazing space.
The building once served as a Catholic Apostolic church and, strangely enough, a banana warehouse in a past life but now provides a unique environment for a modern, trendy restaurant set within a 19th century church.
The friendly waitress showed me to a table upstairs where I sat peering through the large traditionally designed window below the rafters thinking, already, I quite like it here.
Now let's see what the food is like.
From looking at the menu I could tell that this place isn't just serious about food, they're serious about drink too, brilliant.
With a recommendation next to every dish suggesting what drink might complement it, the whole menu and dining experience was well thought out.
With a range of beer on offer, including a selection of the ever-popular Indian pale ales and a number of Belgians, I decided to sample some myself.
I ordered a pint of the wonderfully named Dead Pony Club, and let me tell you, it was neigh bad, neigh bad at all.
To begin my meal I ordered baked figs with pear pure, roast walnuts and gorgonzola.
Presented in a modern and elegant manner, the stunning-looking food came arranged on a black slate.
As good on the taste buds as it was on the eye, the well-balanced dish brought the creamy, salty gorgonzola and sweet pear pure together with the warm, well-baked figs that were full of flavour.
The walnuts added texture with a welcome crunch that topped it all off. Delicious.
For the main, I ordered pigeon breast with pearl barley and date risotto, glazed carrots and Speyside whisky jus.
I've never tried pigeon before, so why not?
Looking back, I'm glad I did, because I loved every mouthful of it.
The bird, cooked pink, was beautifully rich and gamey and went well with the sweet and more-ish barley and date risotto that gave great flavour and body to the dish.
The soft, tender meat was unlike any I've tried before, it was fantastic, I couldn't get enough of it.
The glazed carrots and asparagus spears added great texture, as the sweet taste complemented the rich game, all going perfectly with the wonderful whisky just that left a little zing on the tongue.
A brilliant meal and a great find.
In future, when people ask me where is good to eat in the city, I can say confidently: "I know this great little place."