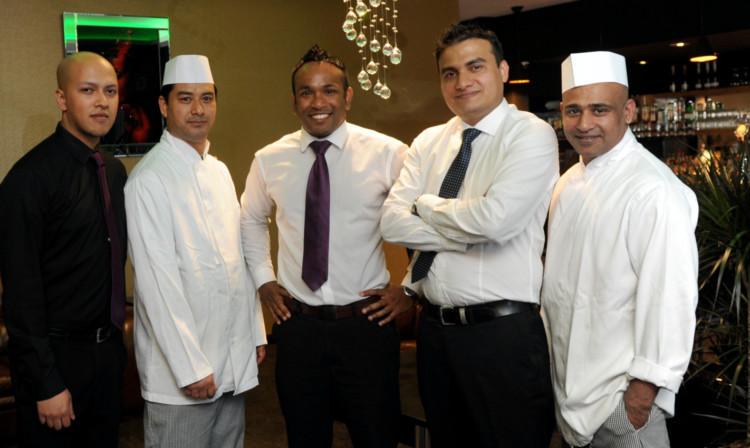 FOR A long time, Indian restaurants up and down the country more or less tasted the same.
That's not to say you couldn't tell a good curry when you got it how cleverly the chefs use spices is surely what separates the naan from the boys but if you ordered a korma, a tikka masala or vindaloo in Buckie or Buckinghamshire, you knew broadly what you were going to be getting.
But in recent years, starting first in London and the Midlands and then spreading north, a new kind of Indian restaurant has arrived on the scene.
All the Indian favourites are present and correct, but they also have more high-end dishes to show that the chef has more strings to his bow than simply knocking out decent dopiazas.
Lasan in Westhill is the latest of these to arrive in the North-east.
The menu itself certainly talked the talk, making bold claims that the food was "bursting with originality" and that the meal would be a "multi-sensory dining experience". I was half expecting a set of headphones and an iPod to come out with the starter, Heston Blumenthal style.
Fortunately, what my starter of adraki lamb chops (5.95) lacked in gimmicks it more than made up for in flavour.
Cooked in the tandoor so it had that unmistakable spicy smokiness, the fatty edges of the chops had turned perfectly gnarly and charred and begged to be eaten by hand, rather than knife and fork.
Full marks also for the texture despite being cooked in such scorching surroundings, the meat was still juicy and tender. The only odd thing was an undetermined red and green swirl around the plate which seemed more for presentation than flavour.
My wife ordered the bongo po king prawns (5.95) I'm not sure what bongo po means, but I'd hazard a guess at "big beasts" because these prawns were massive.
The shells were split down the middle and the succulent white flesh was doused in a sweet but spicy sauce that had a distinctive tart twang thanks to the addition of an accompanying tamarind puree.
(It also had the mystery red and green swoosh.)
Who needs onion bhajis anyway?
The look and taste of my wife's starter gave me great hope for my main course of thermidor Maine lobster tails (19.95) after all, if the king prawns were that big and well-cooked, what could I expect for their American cousins?
Lobster tails can sometimes be finickity things to eat, with so much gouging, prising and scooping required, the taste doesn't always reward the effort.
Not so with Lasan's, however.
Yes, I occasionally required the skills of a surgeon to get every last morsel of sweet, soft flesh out of the scarlet shell, but the taste made it more than worth it.
The sauce was heady with garlic and chilli spice but the very western addition of brandy softened the flavours so they didn't overpower the seafood.
The dish was served with garlic naan bread which was perfect to sop up every last drop of sauce.
My wife's sea bass with burnt shallot (18.95) delivered on quantity but fell down on quality.
Two large sea bass fillets were cooked well but the creamy lemon sauce they came coated in was much too sickly sweet and the marbled look gave us the distinct impression it had split in the pan.
Another letdown was a non-existent burnt shallot and ginger crust, which she wouldn't have known existed were it not mentioned on the menu.
Not that her disappointing main course has put her off visiting Lasan again. We'll definitely be back me to try out some of their more unique dishes, my wife for old reliable favourites like jalfrezi or karahi.