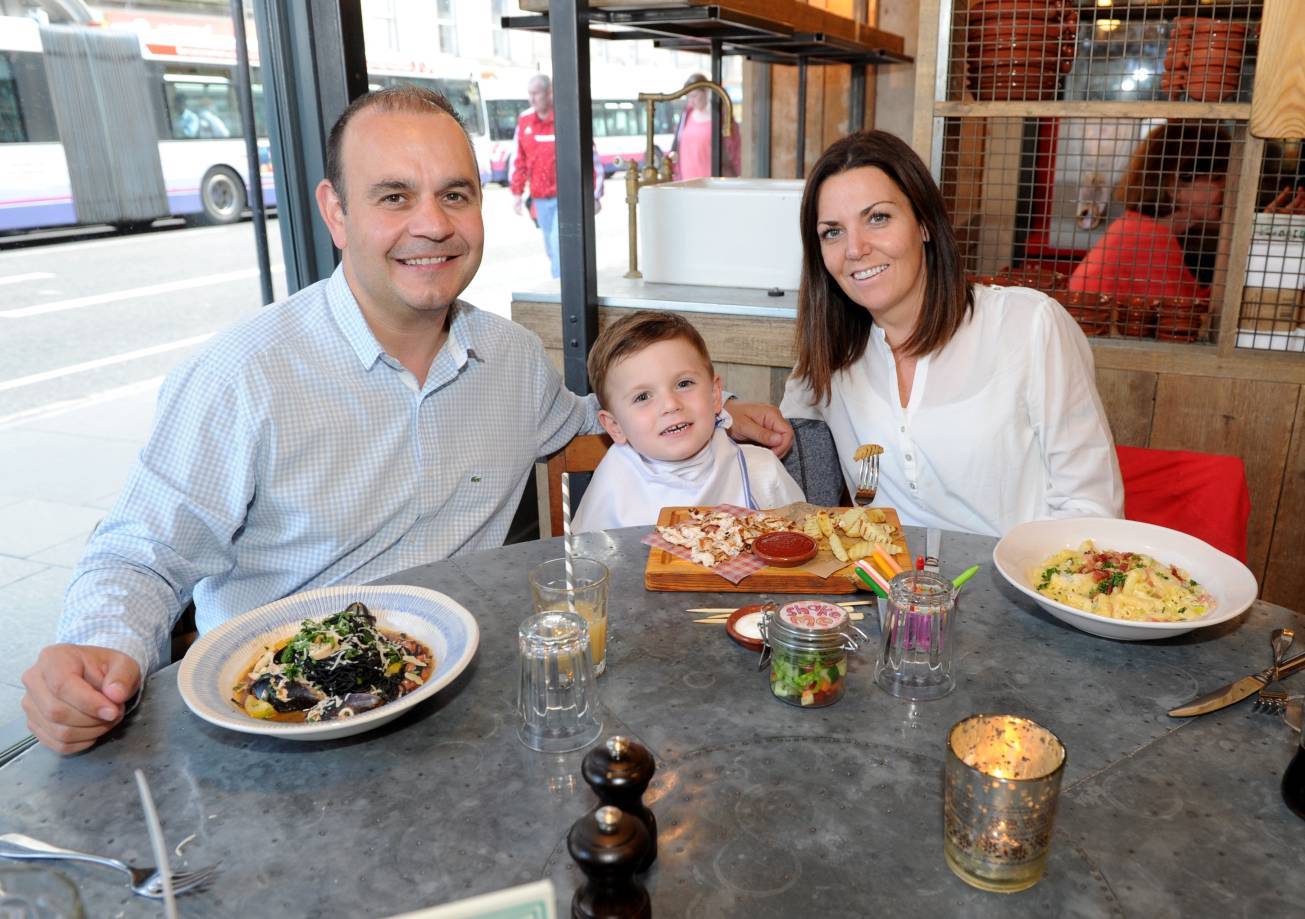 JAMIE Oliver is popular on the telly … and his Italian is clearly popular in Aberdeen.
When Mrs B and I arrived as a couple of walk-ups on a Wednesday night, there was a busy vibrant, air about the place.
Still, I was surprised it would be so busy as to warrant being told of a 10-minute wait for a table and steered towards the bar.
The cynic in me, who always plays not far from the surface, suspected a "get them to buy" drinks ploy, and my heart sank a little.
But three minutes later we were summoned to the mezzanine floor to a ready table with other four or so round it. (A later trip to the upstairs loo revealed an entire floor full of empty tables)
It was a faltering start, but things got better from there. Much.
First off, the atmosphere in Jamie's has that sort of chilled but easily funky feel the celeb chef generates on the box. It has a sort of rustic, post-industrial blend of decor set to a backdrop of cool tunes.
The menu is simple, a single sheet, packed with starters and mains and pasta but no pizza, oddly. Which didn't matter because I wasn't in a pizza mood.
What Mrs B and I were in the mood for was a heaving plate of fine antipasti to get us started … or in Jamie speak a plank of cured meats.
Said plank arrived and was parked on top of two tins of tomatoes, putting it in easy reach of our busy hands. Cute.
This was a groaning platter of the finest cold cuts, all of with a depth of flavour, from fennel infused salami to the chilli kick of schiacciata piccante a salami variation I've never tried before but will seek out in future.
Also in the mix was the creamiest buffalo mozzarella I've ever encountered and a lovely little crisp flatbreads with the tang of pecorino and the zing of chilli jam.
A tasty salad bowl of carrot, beets, with lemon and mint added another level of crunch and taste.
As I tucked away the last morsel, Mrs B and I looked at each other and said "enjoyed that".
The now empty plank was whisked away, leaving us to soak up the atmosphere and go to work on the rather nice bottle of Jamie's red a wine as mellow as our mood had become.
The mains arrived with a flourish almost a "ta-da" and rightly so.
I had decided on sausage pappardelle and was rewarded with a simple, hearty, peasant dish.
The pasta was thick and ruffled, putting me in mind of squid tentacles. The ragu was rich and meaty, infused with the crumbed fennel-infused sausage and a wine note that was just delightful. Herby breadcrumbs added another, pleasing texture.
Now, I never add salt to a plate of food. Ever. I added salt and pepper to this, though, because it needed a helping hand on the seasoning front. Once that was done, it was a bowl of food to relish.
Mrs B had no quibble at all with her feather blade flash steak. Pounded flat, covered with prosciutto, seasoned with sage, then chargrilled, it was delicious.
The steak was melt-in-the-mouth moist and full of flavour, held in by the ham around it. Mrs B was so enthusiastic, she was trying to figure out how to make it at home.
It came with an irresistibly simple tomato and basil salad, packed with garlic.
Steak, of course, needs chips, but these are a bolt-on at Jamie's. Still the funky chips Mrs B ordered were a delight, crunchy and garlicky.
By now we were pleasantly stuffed, had a slight glow from the wine … and a train to catch to Stoney.
We mentioned this to the waitress who broke into a run back to the kitchen with her empty plates then scampered back with the bill.
Which was appreciated, especially as the total wasn't outrageous, as might be expected in an eatery attached to a celebrity chef.
As we trundled home we both agreed one thing. Jamie's is oh go on, you know it has to be said pukka.