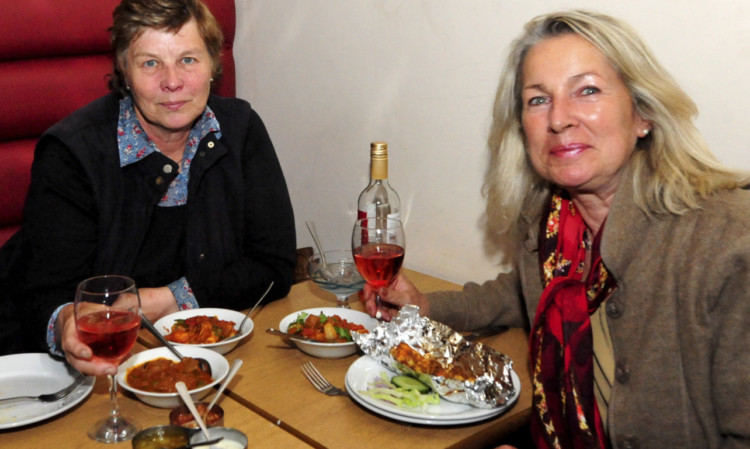 TRUE confessions time … one of my favourite Indian restaurants isn't in the North-east.
It's 130 miles to the south, meaning no trip home to Edinburgh passes without a bit of a feast at Mother India.
Which is a bit of a trek for a tikka or two, so I was delighted to discover that Cafe Bombay boasts a chef who is an alumni of Mother India's Glasgow incarnation.
And it doesn't hurt at all that this eatery in Peterculter scooped the top restaurant award at Aberdeen's Best Curry awards last year.
So with two chums in tow, we took the drive over to Cafe Bombay.
It's a charming place, not huge, that clearly plays on the cafe theme of its title, while still keeping restaurant touches of elegance.
Friendly too, starting with the apologies over this being a bring your own bottle affair.
Cue a trip over the road to stock up on four-packs of Cobra (the designated driver in the group settled for Coke).
The menu is a delight, tapas style dining (as per Mother India) where you pick three or four dishes between two of you, then take it from there.
Mix and match dining broke out, with lots of consultation of "if you have that, we'll get this" as we tucked into popadoms and delicious fixings.
Order in and a procession of food started descending on our wee table. Lots of it and all for sharing and mmmm-ing over.
My first foray saw me tuck into my share of keema samosa.
Banish all thoughts of a bog-standard starter. This was grease-free pastry wrapped round the most delicious spice lamb filling that carried a delightful zing.
That same filling was present and very correct in my next choice, only this time wrapped in a tender rice pancake in the spicy keema dosa. A small portion of lentil dhal to slather over added bite to the dish.
Similar in style but not in content was the aloo saag dosa. Same idea as the keema version, but this held a soft, melt in the mouth melange of potato and spinach that had a great depth of flavour.
Spoon hovering over the ever growing spread of small dishes in front of us, I dipped into a ginger chicken and spinach offering. This was as close to perfection on a plate as I've had in an Indian restaurant.
The first bite gave a huge ginger attack on the taste buds that made my eyes widen. It was followed by a chilli kick that had me smiling, while the spinach added another flavour dimension. This was good. Very, very good.
Pressing on, I was duelling with one of our chums over who went first for the chicken achari. I won.
It was another winner, this time with the tang of lime pickle running through it.
And still there was more, the chilli garlic chicken had a heft of garlic to it that was a pleasure, but probably made us antisocial for a day.
The last meaty dish was another standout, the chicken pathia. A sweet and sour affair in a tomato based sauce, it was a riot of flavour.
Also in the mix was an earthy chana daal, basmati rice, and a fluffy, puffed up garlic naan.
The trick with all of this was the size of the portions.
They were substantial, but not overwhelming.
It meant by the time we had cleaned our plates, we were all sated and happy.
We were even happier when the bill arrived (eventually, service was a bit latchy at times even if the smiles never faded).
This feast for four had checked in at just 48.95.
Even better is the saving I will now make on petrol. One of my favourite restaurants is no longer more than 100 miles away.
It's on my doorstep.