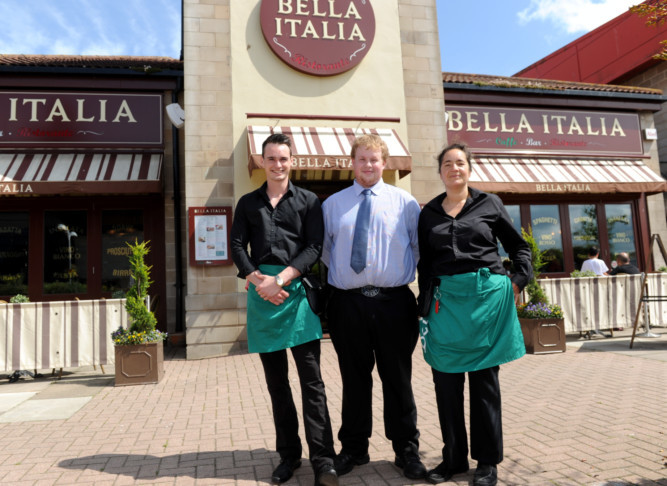 I'VE eaten in more Italian restaurants than you can shake a stick at.
And even though it has taken me quite a few years to do so after my visit to Bella Italia my quest to eat in every Italian restaurant in the city and shire is now complete.
As a creature of habit, the acid test for me in any good Italian is sampling the spaghetti carbonara. A dish that is unforgiving on the waistline but, as far as I'm concerned, the champion of all Italian cuisine.
I was heading out for a night with my big sis Margaret, so decided it was a good idea to end my culinary journey at Bella Italia.
Even though it was a school night I thought it best to go online and book a table in advance just in case.
However, when we arrived there were only two other tables of diners tucking in.
Despite this, my sister and I thought the restaurant had a really nice, chilled vibe.
In a lot of ways, Bella Italia reminded me of Frankie and Benny's with its mass collection of old school Italian families in varying degrees of sternness in framed portraits which in my opinion veered toward OTT.
It's a well-known fact there is no nation more passionate about family than Italians, yet on all my travels I have yet to come across a trattoria there that boasts such a thing.
Crisp white linen tablecloths and napkins, yes. Family portraits no.
But, we weren't in Naples we were in Queens Links, and we weren't really here to critique the decor either, we were here for the food.
Although we were both a little on the peckish side, after seeing the portion sizes on other diners plates, we opted to share a starter of mozzarella and garlic pizza bread.
Despite the usual humming and hawing from me, I plumped for the spaghetti carbonara, as predicted.
We were both really impressed with the two course menu for only 9.95, and had spaghetti carbonara featured on the set menu I would have happily chosen from it.
Margaret was a tad undecided as there was plenty of fine dishes to whet her appetite.
She is a big fan of crispy chicken and so she chose the pollo Milanese.
We sat back with our drinks in anticipation of our food, and were both surprised to see in the time it took us to place our order the restaurant was heaving.
In no time, the waft of cooked garlic headed our way as our waiter laid our pizza bread before us. The base was lovely, thin and crisp just how I like it, and had just enough filling of mozzarella to satisfy the pangs without filling us up too much. It had a lovely garlic kick to it, which some may find too overpowering, but not me. It really hit the spot.
Sadly though, our flimsy paper napkins proved to be quite a distraction as they easily disintegrated on touch from our oily fingers.
I have to confess, I had food envy when I clocked my sister's plate. I thought the green beans that came served with the spaghetti pomodoro and crispy chicken was a very nice touch.
My carbonara dish? Although there was plenty, the pancetta looked like fatty, chopped up bacon and appeared boiled. It was also very watery in appearance, and instead of being able to cut with a knife and fork (my favourite consistency) it was more like soup.
Despite lashings of pepper and parmesan it failed to deliver on flavour and I ended up only eating a small amount.
My sister, in seeing this, cut a very generous size of chicken off her plate for me.
Even though the carbonara failed to win me over, the crispy chicken which was covered in a delicious lemon bread crumb coating made up for it.