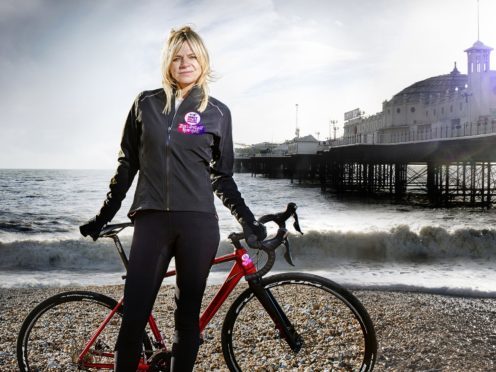 Zoe Ball told fans she was left battling "the jitters" after falling during her gruelling Sport Relief cycle ride.
The presenter, 47, took a tumble during the third day of the challenge and said it left her feeling nervous.
She said by the time she had completed Wednesday's leg she was exhausted and "in quite a bit of pain".
Ball, who has previously told how her boyfriend's death led her to sign up for the challenge, posted two videos on Twitter after finishing the day's ride.
She told her followers: "I can't even work out how it happened, but on a really steep climb out of Ironbridge, and on a bend, I took a tumble.
"I've yet to watch it back but yes, it was a bit of a moment.
"And then it kind of set the jitters a little bit for the rest of the ride.
"I was a little bit nervous and anxious."
After the fall, Zoe encountered a hilly stretch of the ride and then a hailstorm.
"I realised the rides up to now had been all right," she said.
"Suddenly it is just hill after hill after hill."
She went on: "They were brutal and there was one point where I was thinking, 'I don't know if I'm going to be able to do this'. They are so tough, they are so tough."
The TV star said she was in tears when she received a text message from her son, saying his support "meant the world".
Ball said during the final stretch she started to feel "really uncomfortable", and that she was "in quite a bit of pain, all different parts of my body" and "really shattered".
"I have never been so happy to reach a warm building," she said.
Ball is cycling over 300 miles, in just five days, from her birthplace of Blackpool to her hometown of Brighton, to raise awareness of mental health.
The subject is close to Ball's heart following the death of cameraman Billy Yates, who struggled with depression.
He was found dead at his home last May, aged 40.