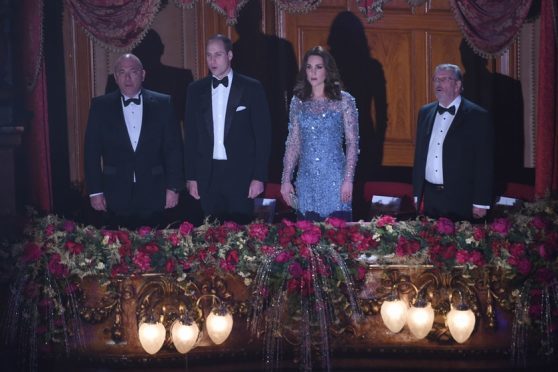 The Duke and Duchess of Cambridge have attended the Royal Variety Performance after their arrival was delayed by an incident which saw armed police out at a nearby shopping district.
William and Kate, who is pregnant with their third child, arrived an hour later than scheduled for the star-studded evening gala at the London Palladium.
Despite being four-months pregnant, Kate's baby bump was not showing beneath her sequinned cornflower blue, floor-length Jenny Packham gown.
A traditional pre-show line-up, in which some of the performers proudly get to meet the royal party, had to be dropped.
The royal couple graced the red carpet before accepting some flowers and swiftly heading straight into the packed auditorium for the national anthem, marking the start of the evening.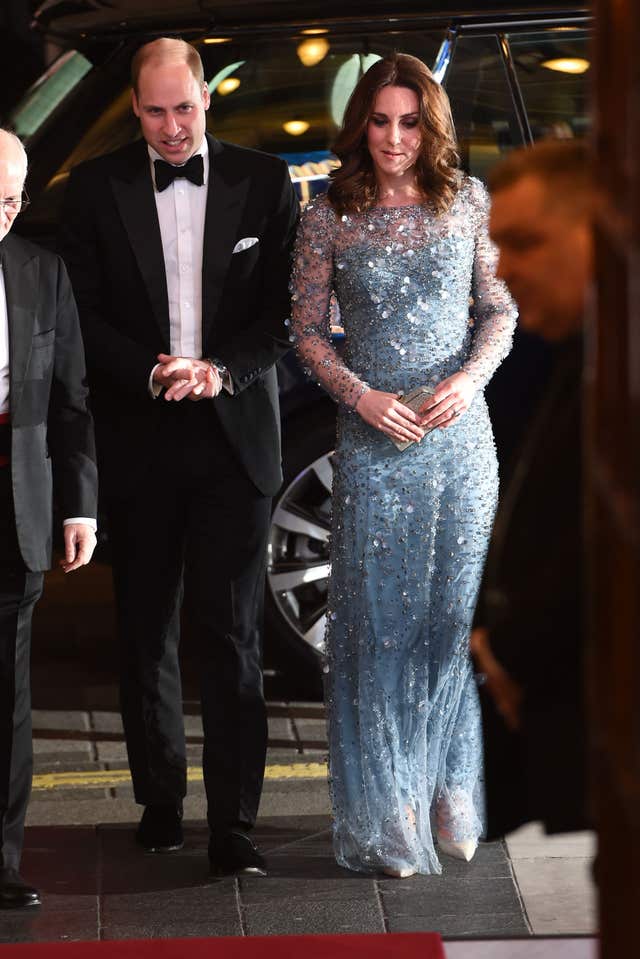 Artists including Louis Tomlinson, Paloma Faith and Seal are among those who are taking to the stage in front of up to 2,000 people at the annual charity event.
Singer James Blunt, who was due to the perform, was a last minute withdrawal after the delayed start meant he would not make an later concert appearance, according to a theatre spokesman.
A Kensington Palace spokesman said the royal couple had been "delayed" but were in time for the start of the performance.
Police are investigating what caused panic among thousands of rush-hour commuters and Black Friday shoppers in the heart of central London.
Armed police had raced to Oxford Circus Tube station and Oxford Street after receiving 999 calls reporting that shots had been fired.
But around 90 minutes after responding, police said there was no evidence of any shots, casualties or suspects.
Oxford Circus Tube and Bond Street stations have reopened, most cordons have been removed and the area has returned to normal.
There was a false start to the event as the curtain did not go up for the first act – a glittering tap dance bonanza from the cast of the 42nd Street stage show.
Host Miranda Hart jokingly teased the audience about whether they spotted if anything had gone wrong before reintroducing the act.
The annual event is held in aid of the Entertainment Artistes' Benevolent Fund, of which the Queen is patron.
The Royal Variety Performance dates back to 1912 when King George V and Queen Mary agreed to attend a Royal Command Performance at the Palace Theatre in London, in aid of the Variety Artistes' Benevolent Fund and its proposed plans to build an extension to its Brinsworth House home for elderly entertainers.
A second royal show was performed in July 1919 and billed as a celebration of peace.
It became an annual event at the suggestion of George V in 1921, when the King decreed that "the monarch or a senior member of the Royal Family, would attend an annual performance, in aid of Brinsworth House and the Royal Variety Charity, once a year thereafter".