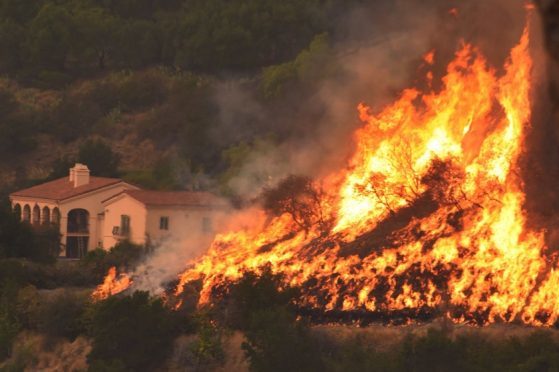 Celebrities have shared their fears as a raging wildfire spread towards their homes and triggered a new wave of evacuations in a wealthy California community.
The devastating fire has been burning across parts of the state for more than two weeks, but on Saturday, it began pushing towards the celebrity enclave of Montecito.
Mandatory evacuations were put in place around Montecito and neighbouring Summerland, as well as parts of Santa Barbara city, as powerful winds brought gusts of up to 60mph.
West Wing actor Rob Lowe shared shocking photos on Instagram of the fire raging just yards away from his home, as he urged his followers to "pray for Santa Barabara".
In another post, the star, who has also appeared in comedy series Parks And Recreation, revealed he had been helping the firefighters who have been battling to get the wildfire under control, but added: "when it's time… you GO."
Several celebrities are known to have homes in Montecito, which is in the coastal foothills north-west of Los Angeles, including Drew Barrymore, Patrick Stewart and Ellen DeGeneres.
Chat show host Oprah Winfrey also lives there, and tweeted: "Still praying for our little town. Winds picked up this morning creating a perfect storm of bad for firefighters. #peacebestill"
A follower asked her how her home was faring, to which she replied: "So far still standing. Praying for the Promised Land and everyone else's land. firefighters on the defense."
The wildfire, which has been named Thomas Fire, is the third-largest in California history, covering 404 square miles, and has destroyed more than 700 homes.
It began on December 4 in Ventura County, spreading into Santa Barbara County, and has killed a firefighter who was trying to battle the flames.
Several US stars have been forced to flee their homes since then, including Chrissy Teigen, Paris Hilton and Chelsea Handler.
Heiress Hilton wrote on Twitter: "This wildfire in LA is terrifying! My house is now being evacuated to get all of my pets out of there safely.
"Thank you to all the firefighters who are risking their lives to save ours. You are true heroes!"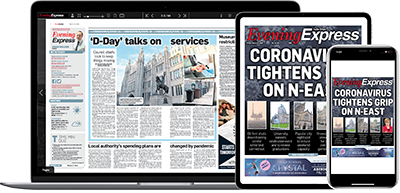 Help support quality local journalism … become a digital subscriber to the Evening Express
For as little as £5.99 a month you can access all of our content, including Premium articles.
Subscribe