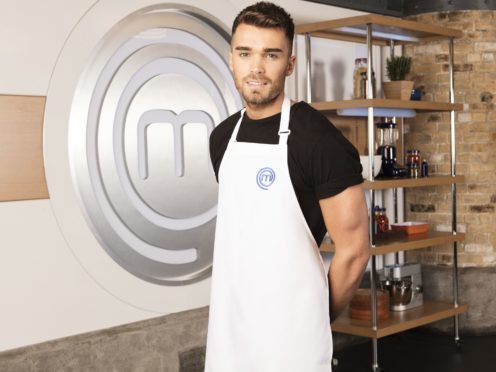 Union J singer Josh Cuthbert is set to feel the heat in the Celebrity MasterChef kitchen as he drops a quiche during the show's new pairs challenge.
TV presenter Michelle Ackerley was the first celebrity to leave the show on Thursday.
Tonight's episode will see a battle for a semi-final place with two more contestants set to be eliminated.
The four famous faces who survived the chop from Thursday's show will be put into teams of two.
Each team's members will be asked to make identical dishes while separated from their partner by a wall down the middle of the kitchen.
Cuthbert will be paired with former England rugby player Martin Bayfield while actor Keith Allen will work alongside singer Carol Decker from 1980's band T'Pau.
The boyband star and sportsman will try to impress judges John Torode and Greg Wallace by reproducing matching picnic plates of salmon quiche, scotch egg and piccalilli.
Allen and Decker will try and replicate one another's stack of blueberry pancakes with walnut brittle and blueberry and coconut compote.
Allen will leave Decker less than optimistic when she has to help him identify the contents of one bowl of ingredients, which turns out to be butter.
Despite Bayfield's 6ft 10 frame allowing him to see Cuthbert over the partition, the pair's communication skills will become unstuck.
Cuthbert does not add the egg mixture to his quiche before putting it in the oven and in his haste to retrieve the pastry drops it on the oven door
The pair are also in for a shock when they realise with time running out they have forgotten to boil the vegetables for the piccalilli.
Allen and Decker will also have problems with Wallace comparing the China In Your Hand singer's brittle to "frozen rocks".
Cutherbert, who will confess he has never eaten a scotch egg, will also jibe that he and Bayfield set a harder dish to make than pancakes.
He will say: "I would say we had a more difficult task than the other two. Every year you cook a pancake for Shrove Tuesday. Whereas there is no shrove Wednesday for piccalilli."
Later in the episode the celebrities will have to cook lunch for over 100 people working at London's Tilbury Docks.
Celebrity MasterChef continues on BBC One tonight at 8.30pm.