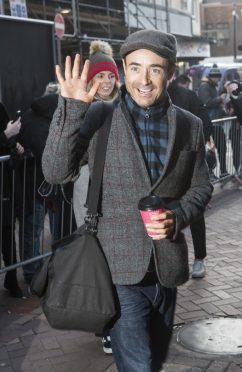 Joe McFadden is leaving Holby City after four years to focus on a stage career.
The Scottish actor and Strictly Come Dancing star has portrayed surgeon Raffaello "Raf" di Lucca in the BBC One medical drama series since January 2014.
McFadden, 42, told the Daily Star Sunday: "Holby has been brilliant. They gave me the time off to do Strictly but sadly everything comes to an end.
"I've not got a solid leaving date, I just think that having done this show, there's other stuff out there and doing live entertainment, it's where my heart is.
"I love doing theatre, I love musicals, and the longer you leave it the harder it gets."
The 42-year-old – who topped the leaderboard during Saturday night's Strictly along with his dance partner Katya Jones for their quickstep to Jumpin' Jack by Big Bad Voodoo Daddy – added: "It's been four years without doing any stage work and I don't want to leave it much longer.
"I'm going back for a little bit but I can't say too much else."
McFadden said he is keen to have a big send-off when he does finally make his move from the hospital drama.
"If and when it does happen it would be nice to have the big exit, as an actor no-one wants to leave in the back of a taxi even if it means being killed off. And obviously a big stunt would be brilliant!"
McFadden is now one of the favourites to win Strictly this year following his most recent performance.