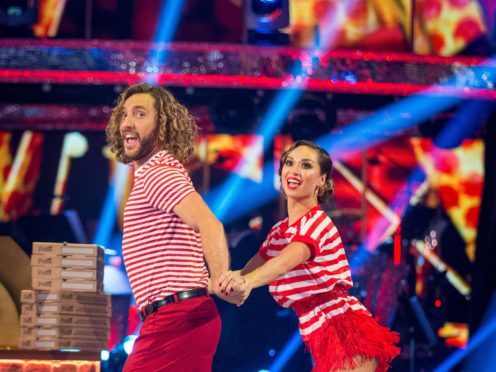 The Strictly Come Dancing judges were accused by some fans of giving "sympathy" votes to Seann Walsh and Katya Jones following their turbulent week.
The duo have been at the centre of attention over the past seven days after being photographed kissing, an embrace they have both apologised for.
Comedian Walsh, who was publicly dumped by his partner amid the controversy, and Jones, who is married to Strictly professional Neil Jones, put their game faces on for their jaunty Charleston set in a pizza restaurant.
They were cheered by the audience for pulling off a number of difficult lifts, and were awarded 28 points from the judges.
It was the highest score of the episode for a male celebrity, and put them in a relatively safe place to avoid elimination by the public.
However, some viewers were disgruntled with the pair's high marks, questioning how they were higher-placed than the likes of Graeme Swann, Joe Sugg and Danny John-Jules.
One wrote on Twitter: "FFS how did Seann and Katya score more than Joe and Dianne or Graeme and Oti? That dance was a mess. Clearly given judges' sympathy vote for weathering the media storm – which they totally brought on themselves.
Another said: "Sorry judges, that was scored far too highly… how did Seann score more than @DannyJohnJules I know they've had a bad week but they shouldn't get sympathy votes! @bbcstrictly."
"Judges putting Seann and Katya in the top half of the leaderboard so that they definitely don't go home. Bore off, their dance was nowhere near that score," another wrote.
"Seann's score did not reflect what I saw #strictly," one viewer said, while another said that Walsh's routine was "clumsy and sloppy" and the judges "marked him higher despite bad footwork, sympathy voting yet again".
However, there was also support on social media for Walsh, 32, and Jones, 29, who did not refer to the scandal at all during the BBC One broadcast.
One viewer said: "Regardless of what is going on in their private lives, Seann & Katya have to come out and deliver a performance in front of millions of people so fair play.
"Plus I did think the matrix tango last week was AMAZING #Strictly."
Another wrote: "Regardless of anything other than their dancing Katya and Seann are brilliant!! Wow Katya choreography is amazing!! Best dance of the night #Strictly."
One viewer asked others to "please stop judging Seann and Katya based on the events of the past week".
They added: "#strictly2018 is about the dancing not the romancing so stop basing your vote on their mistake. They just danced incredibly well and everyone will over look that to screw them over!"
There had been speculation that Walsh and Jones might leave the competition, or that they would be marked poorly as a result, but the judges insisted they would score the pair on their dancing alone.
Strictly Come Dancing continues on Sunday at 7.45pm on BBC One.