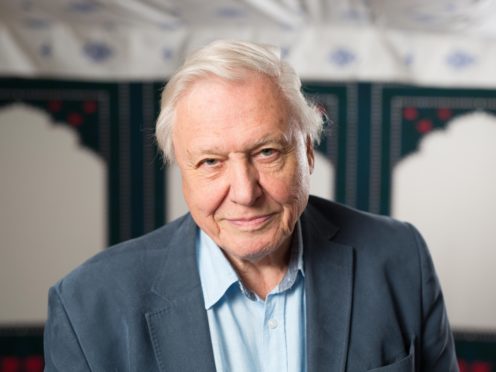 Sir David Attenborough proposed there is evidence animals and birds have "an aesthetic sense" as he delivered the annual Charleston-EFG John Maynard Keynes Prize lecture.
The broadcaster and naturalist, 92, won the coveted award for his outstanding contribution to society.
Delivering his Beauty And The Beasts lecture at Charleston Festival, the Blue Planet star discussed whether some animals can justifiably be described as artists, detailing ways in which different animals and birds showed an appreciation of beauty.
Sir David said evidence suggests "birds have an aesthetic sense, that they appreciate beauty, complexity or colour, characteristics bundled up conveniently as beauty, just as much as we do".
He also spoke about the Bowerbird, which makes elaborate homes to attract mates by showcasing the treasures it has acquired.
The broadcaster said the female birds were able to select which bower was better decorated.
Talking about filming in New Guinea, Sir David said he and his cameraman had to capture the final scene, where the male and female copulate, but did not know where to camp out because they did not know which bower the female would pick.
But he said that time after time they got it right as the birds demonstrated the same taste, using the same criteria as humans to judge the splendour of a display, suggesting they have the "same aesthetic sense" as humans.
"My proposition is that animals in general have an aesthetic sense, that they value and presumably get pleasure from listening to complex songs and watching beautiful collections and beautiful dances," said Sir David.
"To me it is a delight to think we share and take pleasure in much the same sorts of things as our birds and butterflies and mammals and many other creatures in the world," he concluded.
Sir David was announced as the winner of the fourth Charleston-EFG John Maynard Keynes Prize in February.
Dame Liz Forgan, chair of the advisory panel, said at the time: "The Keynes Prize recognises outstanding individuals who have used their genius in the service of humanity.
"David Attenborough's exceptional gift of communication has made it easy for us all to share his deep understanding of the natural world.
"He has been our trusted guide and teacher in the air, under the sea, in desert, tundra and jungle with humour, colour, imagination and good science.
"If our grandchildren inherit a sustainable planet he will deserve their gratitude."