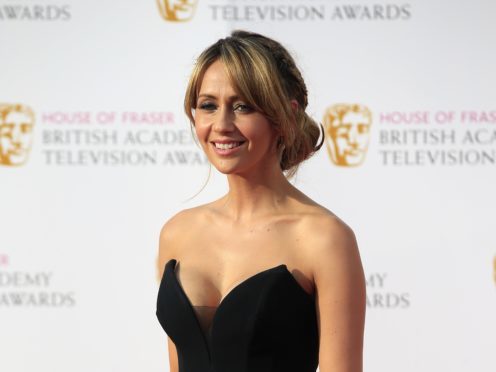 Coronation Street star Samia Longchambon has admitted it was "nerve-wracking" to talk about her battle with anxiety, but that she did so to help others living with it.
The actress revealed in an interview how she has spent 25 years dealing with the condition, which often results in panic attacks.
She told the Daily Mirror: "You feel like you are going to die, you can't breathe. You feel like you are going to faint or die."
Following the publication of the interview, Longchambon wrote on Instagram: "Out today.. it was a bit nerve wracking but I spoke to @dailymirror about my experience with #anxiety hoping it might help others living with it and in return for a donation to @anxietyukofficial #mentalhealth #life."
The 35-year-old TV star, who has played Maria Connor on the soap for 18 years, told the newspaper that she started getting professional help for her anxiety six months ago, despite first experiencing symptoms in her childhood.
"I remember, when I was 11, I had been saying to my mum for a while, 'I feel like I can't get a deep breath, it is like I have to yawn to get a deep breath'," Longchambon said.
"That has always been my thing when I am feeling anxious, it is one of my symptoms."
She said she thinks her parents' divorce in her youth "might have played a part in triggering it".
Longchambon said doctors initially thought she may have been suffering from asthma, but that they later concluded she was dealing with anxiety, although there was little support around in the 1990s.
"I didn't have any therapy or counselling, but now I have found ways of dealing with it," she said.
"Sometimes I wake up and my heart will be racing for some reason. I won't know why, but I won't be able to get my breath."
The actress and mother of two said that anxiety is "like a fear" and that it means she is "worrying about the future too much".
"It is like I get a sense of doom and go through so many different scenarios in my head," she added.
Longchambon said that her husband Sylvain Longchambon, her former Dancing On Ice professional partner, is a great support for her and is "brilliant at knowing what to do to help".
She said she wanted to go public with her anxiety battle to help people, but that she does not think it was "brave" to speak out about it.
"I just wanted other people who might be going through it too to know that I have anxious thoughts and it's OK," she said.