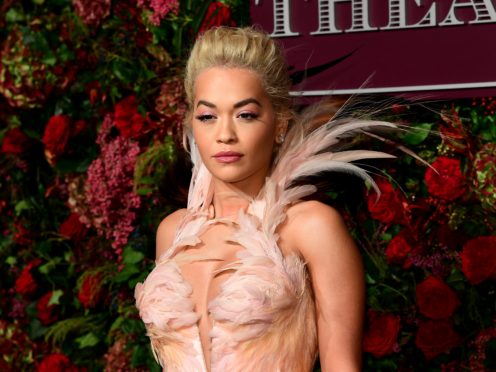 Rita Ora has defended her performance at the Macy's Thanksgiving Day Parade after fans criticised her for lip-syncing.
The famous parade – the world's largest – is a staple of Thanksgiving in the US and takes place in New York City each year.
On Thursday, Ora performed alongside John Legend but received criticism on Twitter for lip-syncing through her rendition of her hit Let Me Love You.
Footage from the parade revealed a sizeable delay in the lyrics and Ora mouthing them.
One viewer tweeted: "Y'all Rita Ora just lip synced and wasn't even singing on time at all."
Another said: "Happy Thanksgiving to the fine folks in the NBC control room who keep panning away from Rita Ora's face because her lip-synch is off by a solid four bars."
And one wrote: "Rita Ora missing her cue for the lip sync and forcing the camera crew to only use wide shots is the highlight of the parade for me."
But Macy's defended the star from the backlash and revealed "technical issues" were to blame, adding it was "out of the artist's control".
Ora replied to the tweet and said: "Thank you and I appreciate the honesty and I hope everyone still had a great time!"
Legend also defended Ora after a fan pointed out he too had mimed his performance.
He tweeted: "Fun fact. We all have to lip sync on this parade because the floats don't have the capacity to handle the sound requirements for a live performance.
"Hope y'all enjoyed it anyway. Know that if you come to my shows, the vocals are 100% live!"
Ora, 27, replied to Legend and insisted she usually performs live at her shows.
She wrote: "Fun fact @johnlegend thank you for clarifying what I was about to also tweet. It's annoying for us but anyway! All my shows are 100 percent live always have been! When you come to a ORA show get ready! Back to holidays! Have a good one guys! 🙂 X."
The Macy's Thanksgiving Day Parade, presented each year by the US department store chain, dates back to 1924.
Previous performers include Kylie Minogue, Andrea Bocelli and Gloria Estefan.