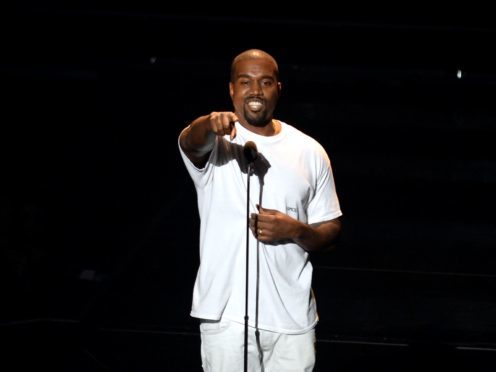 Kanye West's new album has been largely praised by fans despite the rapper's recent controversial moments, including his comment about slavery being a "choice".
West played the seven-track LP, called Ye, at a star-studded livestreamed event in Jackson Hole, Wyoming, overnight on Thursday, and the album became available to stream and download across various platforms hours later.
The album includes collaborations with Kid Cudi, Young Thug, John Legend, Ty Dolla Sign and Nicki Minaj, whose voice appears in the form of a voicemail message on one song.
The tracklisting, which was officially unveiled hours after the record was debuted, includes songs titled I Thought About Killing You, Yikes and Violent Crimes.
His wife Kim Kardashian West, who was one of the many stars at the listening party along with the likes of comedian Chris Rock, actor Jonah Hill and rappers Pusha T, Nas and 2 Chainz, later revealed that West shot the album cover earlier in the day.
She tweeted: "Kanye shot the album cover on his iPhone on the way to the album listening party."
The cover art, which fans also had to wait some time to see, features a picture of mountains with the words "I hate being bi-polar – it's awesome" scrawled across it in lurid green handwriting.
The highly anticipated album is the rapper's first since 2016's The Life Of Pablo and his hospitalisation due to mental health issues later that year.
Ahead of releasing Ye, his eighth album, 40-year-old West has courted controversy with his support for Donald Trump, and his comments on slavery being a choice.
He recently faced a backlash following an interview with American website TMZ, during which he suggested slavery in America was "a choice".
On the album, West refers to his much-criticised comment, as he raps: "They said build your own, I said, 'How, Sway?'" / I said slavery's a choice, they said, 'How, Ye?' / Just imagine if they caught me on a wild day."
The album also sees West rapping about his battle with mental illness, his wife and Trump accuser Stormy Daniels, among other topics.
In one track he raps about having a "case of too many bad days" and clearing the "cache", while in another he mentions his struggle to love himself.
Fans appeared to forgive West as they heaped praise on his new music after listening to the livestream via the Wav app.
One wrote on Twitter: "Yall two weeks ago: KANYE IS CANCELLED, I'm not listening to his new music. I. AM. DONE."
They added "Yall today," using a gif of rapper Jay-Z dancing to symbolise their enjoyment of West's music.
In a similar vein, another wrote: "Y'all: Kanye West is canceled I will not support his music no more."
They continued, using a gif of cartoon character Bart Simpson enjoying music: "Those same people tonight."
Hollywood star Ryan Phillippe was among those taking to Twitter to comment on the album, as he wrote that "his album is kinda amazing…".
In follow-up messages, he said that the "production is magical" and that "he mixed the old kanye with the new kanye produced by the future kanye."
One fan compared West's new effort to his previous albums, writing: "This album sounds like Yeezus had a baby with College Dropout but cheated with Life of Pablo and was adopted by Graduation. #YE"
Another hailed the musician's return to his original style, as they tweeted: "kanye's new album got that old school kanye vibe."
"This album is already a piece of art," another fan said.
"Kanye always finds a way to outdo himself when you think there is nothing left to do. Always. #YE."
One said the album is the rapper's "happiest, most hopeful and prettiest album" ever.
However, not all comments were positive, as comedian Akilah Hughes wrote: "This song is literally about when he tweeted that slavery was a choice. This is some lazy end of semester work is what this album is. #Ye."
She added: "It's hard to explain how disappointed I am by this album. I feel like it didn't used to be possible that Kanye would have an underwhelming album, but now every BAD impossible thing is possible and we are lost as a species. Nothing is good."
West is set to produce five albums this year, including his own album and one collaborative effort with Kid Cudi, as well as Pusha T's Daytona, which was released last week.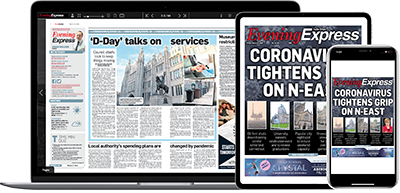 Help support quality local journalism … become a digital subscriber to the Evening Express
For as little as £5.99 a month you can access all of our content, including Premium articles.
Subscribe