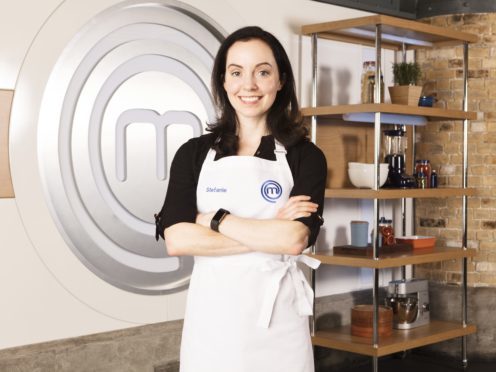 Paralympian Stefanie Reid and comedian Zoe Lyons are through to the semi-finals of Celebrity MasterChef 2018.
Track and field star Reid, 33, and stand-up Lyons, 46, booked their places in the next round after impressing judges John Torode and Gregg Wallace.
Their culinary efforts in the final challenge also received the seal of approval from a panel including previous champions actress Lisa Faulkner and former Pussycat Dolls star Kimberly Wyatt, as well as TV presenter Rylan Clark-Neal, a finalist in 2015.
Reid served up a main course of Japanese flavoured salmon with crispy skin and an open California roll sushi stack. For dessert she made a chocolate mocha fondant with vanilla whipped cream and raspberries.
Lyons's menu consisted of a Goan coconut and pumpkin curry with rice and homemade naan bread followed by an orange chocolate cake and custard.
Torode heaped praise on Reid's cooking, saying she produced two "faultless" dishes. Wallace called Reid "a star" and both judges had no hesitation putting her through.
Lyons won praise from the previous contestants for her pudding. Clark-Neal said: "This will be in my veneers for weeks, but it is so worth it."
On going through, Reid said: "I'm so happy and I'm so tired! The problem is you start to get a little bit greedy.
"I'm a semi-finalist now, I kind of want to know what it's like to be a finalist!"
Lyons said: "There's a moment of joy that's quickly eclipsed by a moment of, 'Oh yeah, here we go'.
"I'm going to have to get myself one of those fancy flamethrowers for the kitchen at home. I'm going to be doing all sorts."
The guest judges were less complimentary about former Towie star Gemma Collins's Mediterranean sea bass en papillote with crispy potatoes.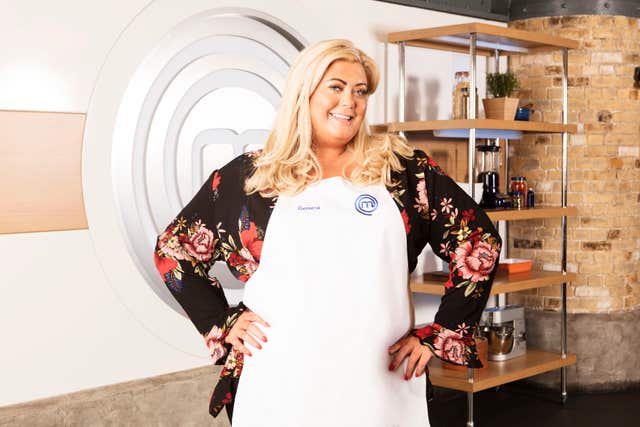 Clark-Neal struggled to tell the difference between the potatoes and the paper the fish was served in. Wyatt added that the dish looked like it had "been through a crime site".
Collins said: "I had a brilliant time. It will be a relief to cook again without John and Gregg around, eyeballing."
England cricketer Monty Panesar was also caught out in the episode's final task.
The bowler said: "From where I started to where I've come to, I feel like I have made a lot of progress and I don't think I could have done any better."
Earlier in the show, the celebrity cooks made lunch for more than 100 members of staff at the British Airways Global Learning Academy and negotiated the show's pairs challenge.
In next week's final heat, country music star Dolly Parton's younger sister Stella and BBC Radio 1 presenter Clara Amfo will be among those to cook for the last two spots in the semi-finals.
Celebrity MasterChef continues on BBC One on Thursday at 8pm.