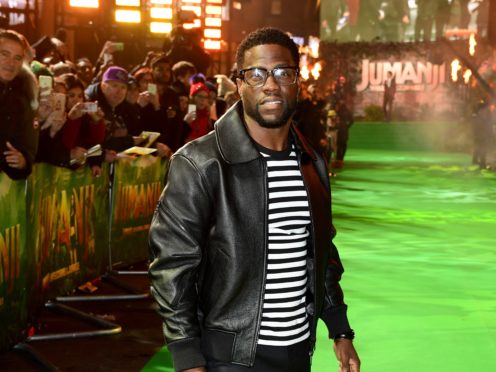 Oscars host Kevin Hart said he "loves everybody" amid controversy over alleged homophobic tweets posted nearly a decade ago.
The US comedian and actor was named as the host of the 2019 Academy Awards on Tuesday, describing the role as "the opportunity of a lifetime".
Shortly after his appointment, tweets resurfaced, originally posted between 2009 and 2011, which contained offensive language towards the LGBT community.
Hart, 39, has now responded to the controversy, sharing a video to Instagram alongside an accompanying message.
In the black-and-white video, a shirtless Hart said: "I swear man, our world is becoming beyond crazy. I'm not going to let the craziness frustrate me or anger me especially when I worked hard to get to the mental space where I'm at now.
"My team calls me, 'Oh my God, Kevin, this world is upset about tweets you did years ago'.
"Guys. I'm almost 40 years old. If you don't believe that people change, grow, evolve as they get older, I don't know what to tell you. If you want to hold people in a position where they always have to justify or explain their past, then do you. I'm the wrong guy, man. I'm in a great place, a great mature place where all I do is spread positivity."
Hart, who has starred in films including Ride Along and Night School, wrote in the caption urging people to "stop looking for reasons to be negative" and "angry".
He added: "If u want to search my history or past and anger yourselves with what u find that is fine with me. I'm almost 40 years old and I'm in love with the man that I am becoming. You LIVE and YOU LEARN & YOU GROW & YOU MATURE. I live to Love….Please take your negative energy and put it into something constructive. Please….What's understood should never have to be said. I LOVE EVERYBODY…..ONCE AGAIN EVERYBODY. If you choose to not believe me then that's on you….Have a beautiful day."
After announcing he would host the Oscars, Hart said he will "make sure" it is a "special one".
Hart's unveiling came just hours after influential trade magazine The Hollywood Reporter called the host's gig, "the worst job in town", after previous appointments experienced difficulties on the night.
Jimmy Kimmel was the MC when the best picture gong was wrongly handed to La La Land over Moonlight, though was not responsible for that mistake.
Hart is just one of a handful of African Americans to host the Oscars, following on from stars including Chris Rock, Whoopi Goldberg and Sammy Davis Jr.
The Oscars will take place in Los Angeles on Sunday February 24.