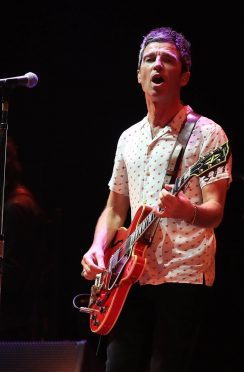 Singer Noel Gallagher has attributed the artwork on the cover of his new album to his wife and his postman.
The former Oasis star, whose band Noel Gallagher's High Flying Birds released their latest record Who Built The Moon? on Friday, told how the dreamy picture of a woman against a mountainous landscape was a last-minute decision created in a basement flat.
He said that the woman featured is his wife Sara MacDonald and the artist responsible is his postman, named Gareth Halliday.
Speaking on Radio X this week, Gallagher said: "I must say the guy that's done this artwork is my postman, Gareth Halliday. I came across his work and I got in touch with him out of the blue.
"I said to him 'you're doing my artwork for the album' and he sent me this amazing picture the other day."
Gallagher said that his postman described seeing an advert of the final piece as "the most bizarre day of my life", and added: "If you're listening, Gareth, which you're probably not, probably in the sorting office somewhere, you're a genius."
Explaining how his wife of six years got involved, he continued: "The original shot was a picture that Gareth had cut out of a National Geographic magazine and it was a woman pretty much in the same pose from the 50s in Havana in Cuba.
"We went right to the deadline of the record and I was sat at the kitchen table and I got a phone call from one of the girls who runs my label in the office, and she said 'we can't clear this picture so you're gonna have to reshoot this thing' in two days.
"I was going 'who on Earth is gonna do this… hang on a second, Sara, what are you doing tomorrow?'
"So we shot it in a basement flat on Wimpole Street… that's clearly not a real landscape."
Gallagher also spent his radio stint with presenter Gordon Smart reminiscing over his recent 50th birthday party and said he would like to see Wolf Of Wall Street star Matthew McConaughey play him in a biographical film.
He also dedicated a playing of Beatles parody band The Rutles to his brother and former Oasis bandmate Liam Gallagher, who recently released his debut solo album As You Were.
He aimed a light-hearted swipe at the musician as he joked: "I'd like to dedicate to my ex-tambourine player and all his fans and this is the benchmark that any of you are yet to reach… That was not an outtake from The Way We Were, that was in fact Cheese And Onions by the Rutles.
"So, you know, as you weren't."
:: The Radio X Evening Show airs on week nights from 7pm – 10pm.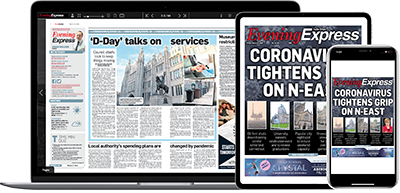 Help support quality local journalism … become a digital subscriber to the Evening Express
For as little as £5.99 a month you can access all of our content, including Premium articles.
Subscribe