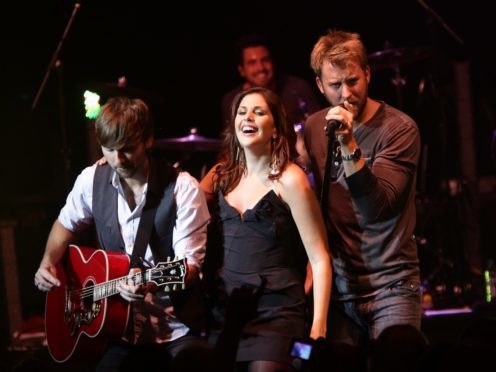 Lady Antebellum have thanked Taylor Swift for including them on a Spotify playlist of her favourite songs.
Swift has encouraged fans to listen to her newly collated collection which features the group's hit Heart Break as well as music from other country artists such as LANCO and Dan + Shay.
The 43-track playlist also includes some of Swift's own tunes from newly released album Reputation, including End Game, which has vocals from Ed Sheeran and Future.
Lady Antebellum, comprised of Hillary Scott, Dave Haywood and Charles Kelley, showed their gratitude with a tweet saying: "Thanks for loving #HeartBreak."
The country group have also been celebrating the birth of frontwoman Hillary Scott's twin daughters this week.
The singer posted two pictures of the identical sisters to Instagram as well as announcing their names, Betsy Mack and Emory JoAnn.
They were born in the early hours of January 29, the morning after the 60th Grammy awards where Lady Antebellum were nominated for Best Country Album and Best Country Duo/Group Performance.
Scott said: "Our identical little ladies Betsy Mack and Emory JoAnn were born January 29th around 2am, 5.5lbs each and 17 inches long.
"Their Daddy took this picture when they were two days old napping on Mama. Their favorite place to be, other than on me, is nose to nose and cheek to cheek."
A second picture shows proud big sister Eisele Kaye, four, cradling the new arrivals.
Scott said: "Big Sister Eisele's heart is full of love for her sisters and she is already such an incredible little helper. One week in and we are definitely seeing double!
"Double the blessing, double the tired, double the laundry, but double the love! ~Tyrrell Party of Five."
Scott announced the birth of her and husband Chris Tyrell's twins with a picture of two striped baby hats labelled A and B.
She said: "Our family is thankful and proud to announce the arrival of our precious baby girls. They were born in the early hours of January 29th, 2018 and we can't wait to share more about them in the days to come.
"Thank you to everyone who prayed and prayed for these little ladies, and thank you Lord for healthy babies."
The 31-year-old announced she was expecting twins in August, two years after she had a miscarriage.