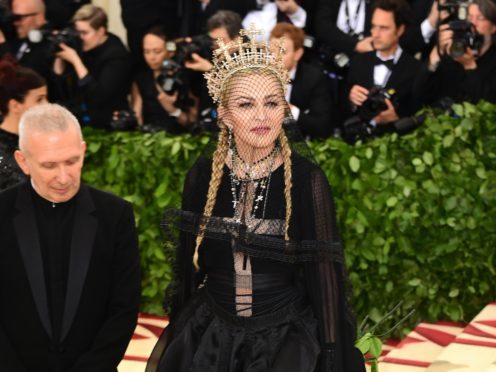 Madonna stunned the star-studded audience at the Met Gala with a surprise performance of Like A Prayer.
The Material Girl performed her classic hit alongside a cover of Leonard Cohen's Hallelujah inside the Great Hall at the Metropolitan Museum of Art, according to Vogue Magazine.
The theme of the night was Heavenly Bodies: Fashion and the Catholic Imagination and earlier in the evening Madonna appeared on the red carpet in a black Jean Paul Gaultier gown paired with a black net veil covering her face.
According to Vogue, following the Met Gala dinner Madonna underwent a dramatic wardrobe change and reappeared wearing a flowing white gown.
The singer shared a picture of the performance on Instagram.
It was captioned: "With The Light on the Steps of the Met! 😇😇😇 #jeannedarc #metgala#hallelujah #catholicimagination 🙏🏼👑 #heavenly."
As well as the picture, she shared a short clip of the performance and captioned it: "Stairway to Heaven! . #metgala #epic. #jeannedarc #catholicimagination @jpgaultierofficial thank you all who helped make it happen!"