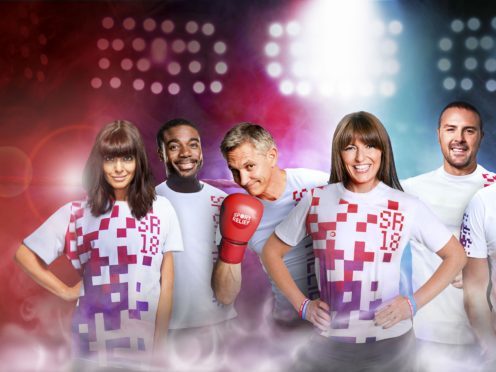 Celebrities have joined together to kick off the Sport Relief 2018 television event in order to raise money for worthy causes across the UK and overseas.
The six-hour BBC telethon was introduced by presenters Davina McCall, Gary Lineker and Ore Oduba and saw Kylie Minogue take to the stage to perform her song Dancing.
Following her performance, the singer urged viewers to "donate through the night" to raise money for Sport Relief.
Minogue was later seen manning the phones along with others, including TV presenters Claudia Winkleman and Paddy McGuinness, to take donations from members of the public.
Hollywood actor Cuba Gooding Jr, The One Show host Alex Jones and fitness coach Joe Wicks were among other stars making appearances on the programme.
The televised event came after Liz Warner, chief executive of Comic Relief – which runs Sport Relief and Red Nose Day – told the Guardian that viewers will see a difference in their on-location appeals.
The charity had been criticised for its celebrity-fronted appeal clips and complaints were raised about "poverty tourism".
Ms Warner said that Sport Relief will feature a different type of film, and will see "people talking in the first person in their own voices, with local heroes and local heroines talking to us about the work they're doing."
She added: "You won't see a celebrity standing in front of people talking about them. You'll see people talking for themselves."
One of the first of these new films was introduced by Jones, and saw a young girl called Faith talk about her life in Kibera in Kenya, and how money raised by the charity has helped the region.
The move comes after an appeal fronted by Ed Sheeran for Comic Relief last year when he visited Liberia was accused of reinforcing white saviour stereotypes.
The film won a Radi-Aid award, highlighting fundraising videos which reinforce cliches, with judges saying the video is "basically about Ed Sheeran".
During Friday evening's broadcast, Jones – who gave birth to son Edward in January 2017 – learned the result of her recent Sport Relief challenge.
She had teamed up with four other mums from around the country for The Mother Of All Challenges, which saw them swimming, hiking, cycling, caving and running across the UK to help raise awareness of maternal health and raise cash.
Jones was delighted when told during the live broadcast that she and her teammates had raised £799,991.
It was also revealed that, in a challenge which saw BBC and ITV teams take each other on in a rowing challenge, the BBC had prevailed.
The last Sport Relief in 2016 raised a record-breaking £55,444,906.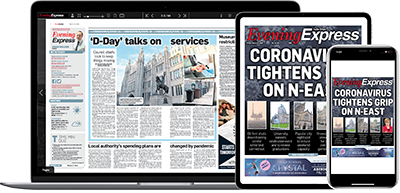 Help support quality local journalism … become a digital subscriber to the Evening Express
For as little as £5.99 a month you can access all of our content, including Premium articles.
Subscribe