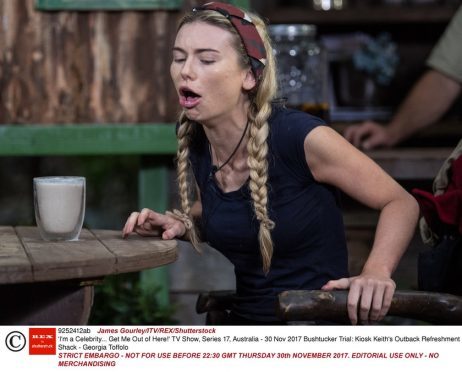 Amir Khan and Georgia Toffolo chugged down vile drinks of blended crocodile anus, a cow's heart and flies and scorpions in the latest I'm A Celebrity… Get Me Out Of Here! bushtucker trial.
The boxer and the Made In Chelsea star had been chosen to tackle the stomach-churning challenge by viewers, and were also later stunned to learn they had been picked to take part in a secret mission ahead of the first elimination of the series.
The trial, based at Kiosk Keith's Outback Refreshment Shack, saw Khan and Toffolo have to choke down a number of drinks made with unappetising ingredients in order to win food for their camp mates.
Toffolo was initially horrified at the task and said: "Oh no, I can't do drinking, guys."
They were also told by hosts Ant and Dec details of their secret challenge.
Ant said: "You're now the founder members of the Fright Club, you have headquarters and everything! It's Snake Rock and you'll go straight there after the trial."
Dec continued: "Over the next two days you'll attempt to win immunity from the first vote off for some of your fellow camp mates whilst living in Snake Rock.
"You'll automatically be fed so this trial you'll be playing is for nine stars to feed your camp mates in Croc Creek.
"The 10th and final drink is for immunity from the first vote off for one of your camp mates."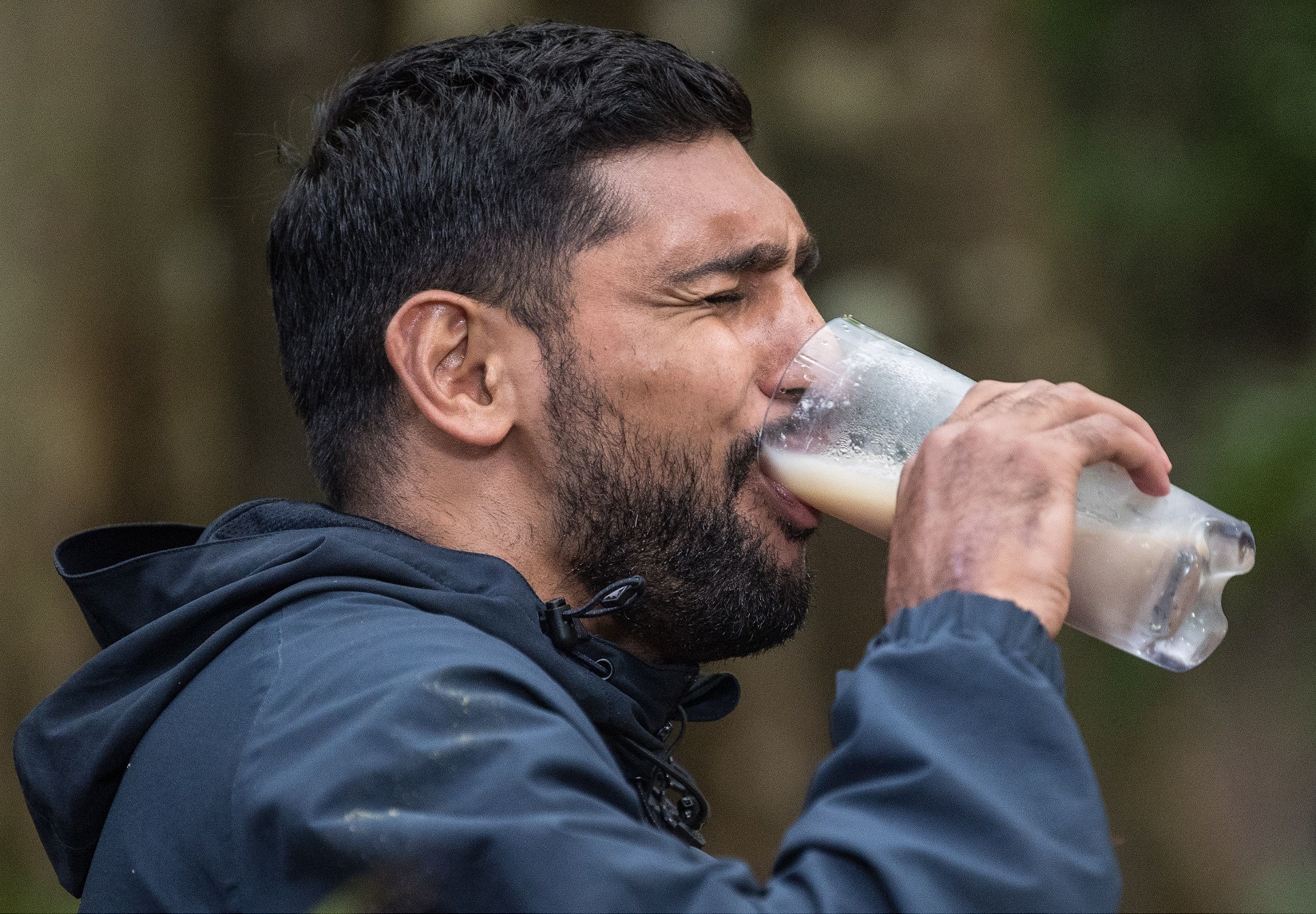 The drinks Khan and Toffolo had to consume included "Grime Cordial" made with blended goat liver, "Shocka Mocka", made of blended flies and scorpions, "Camel-Mile Teat", made of blended camel teat, "Crap-Acino", a blended crocodile anus, and "Cloudly Le-Moo Nade", a blended cow heart.
Toffolo was unable to stomach a cup of blended pig testicles, meaning they lost one star from their prize haul, but the pair managed to finish the other disgusting drinks.
Following their challenge they were taken to Snake Rock – a luxury bolthole away from the main camp complete with beds and a shower – and learned they would stay there for two days.
As members of the Fright Club, they were told: "There are 11 locked picture frames and over the next two days there will be various opportunities to win keys to unlock them and reveal pictures of the camp mates.
"Once their picture is revealed that celebrity is immune to the first vote off.
"You have already won a key in today's trial which you must now use to reveal the first portrait."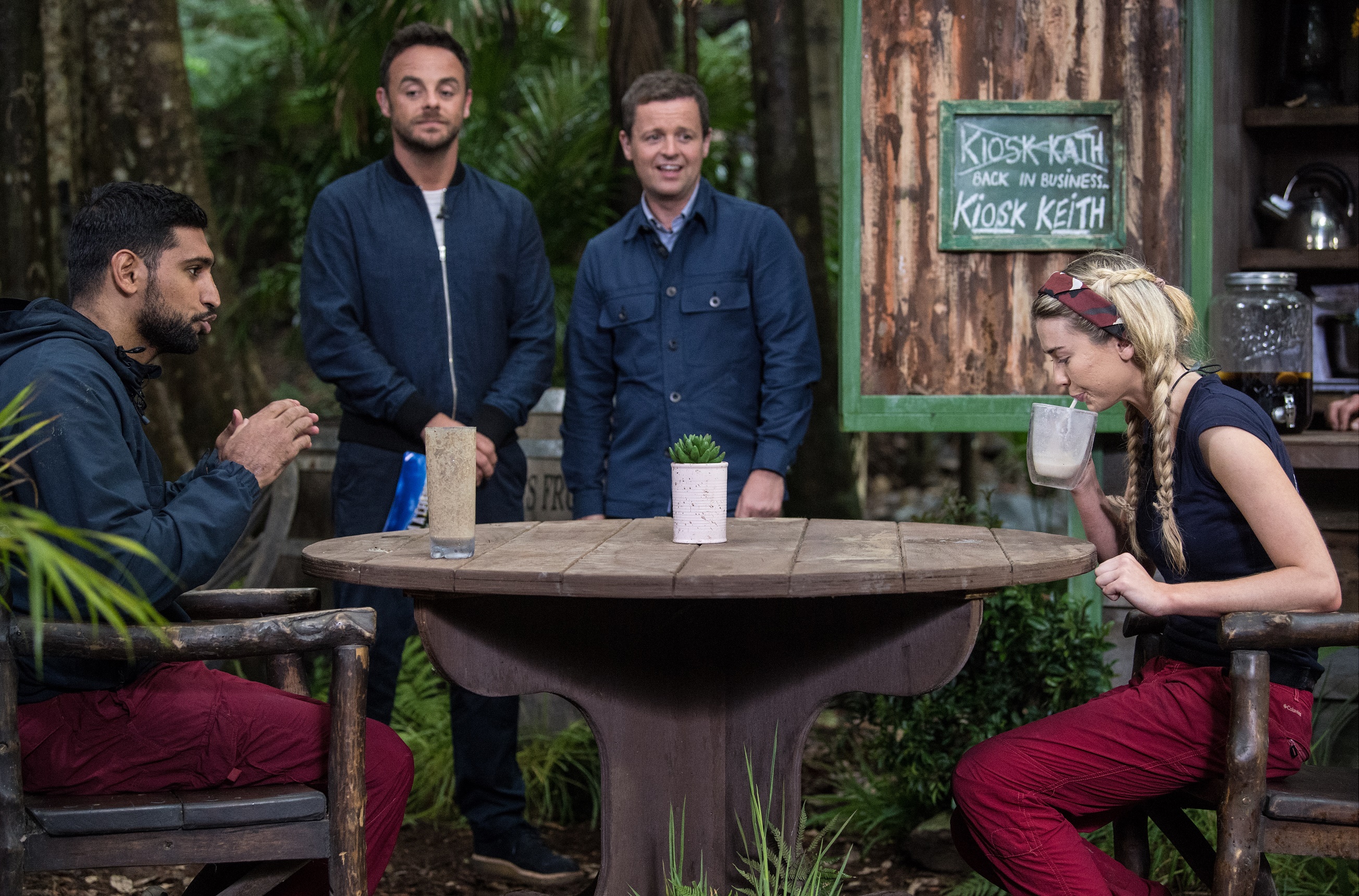 Khan randomly picked the first frame with the face of comedian Iain Lee behind it, meaning he is immune from the first elimination.
Khan and Toffolo also had to choose two of their fellow celebrity contestants to take part in the secret mission with them, and they opted for Dennis Wise and Vanessa White.
The new recruits later snuck away from camp to take part in a separate challenge, during which they won another immunity key.
Upon visiting Snake Rock, Wise and White were told to choose another picture frame at random.
Khan's portrait appeared behind the chosen frame, meaning he is also immune from the first elimination of the series.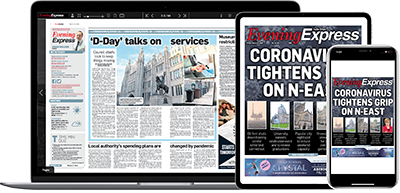 Help support quality local journalism … become a digital subscriber to the Evening Express
For as little as £5.99 a month you can access all of our content, including Premium articles.
Subscribe